Simba urges NMS to erect statue of lion at Uhuru Park in new renovations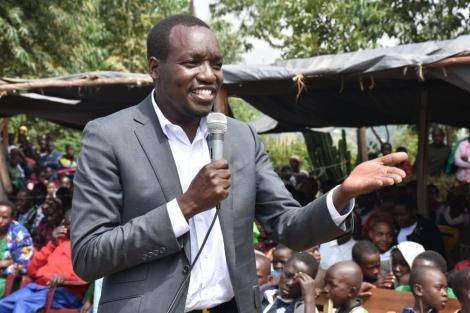 A city MP has urged Nairobi Metropolitan Services (NMS) to consider erecting the statue of a lion at Uhuru Park. Dagoretti South MP Simba Arati, whose constituency stretches to Uhuru Park, says that would suit his name in the ongoing rehabilitation of the historic park in the city.
He spoke after some politicians claimed there were plans to erect a hotel at the park mostly when the iconic pavilion was demolished to allow for the ongoing rehabilitation expected to end around February next year.
"We appreciate what the government is doing through NMS by rehabilitating all parks in Nairobi. I can even erect a statue of a lion in the park or that of Raila Odinga because he has fought for this country and that is where he was sworn in as People's President," said Arati.
"Uhuru Park is in my constituency and we hope that bringing down the dais is good; those who are saying otherwise are trying to divert attention from development," he added.
The park was closed by the NMS in October for rehabilitation after Nairobi County Assembly passed a motion that will also see adjacent Central Park get a face-lift.
Uhuru Park is a 12.9-hectare recreational park adjacent to the central business district of Nairobi and was opened to the public by the late Mzee Jomo Kenyatta on May 23, 1969.
The park hosts an artificial lake, several national monuments, and an assembly ground, which has become popular for skateboarding at weekends, local skateboarding competitions, and caters for Nairobi's growing skate scene.