Peter Odhiambo: I regret the day I cursed my inmate son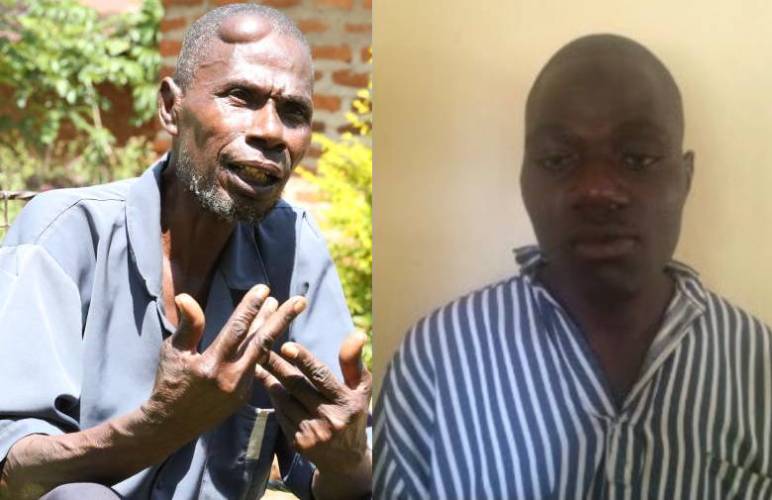 The father of one of the three Kamiti terror escapees, Joseph Juma Odhiambo "Yusuf" believes the words "I am sorry" could have shaped his son to a law abiding citizen rather than a jail bird when he left the village for Nairobi.
Peter Odhiambo, who spoke to The Nairobian exclusively said he was available for a truce with his son but the 30-year-old blew up the opportunity.
"After waiting for so long without him coming to seek for forgiveness, I demolished his house and uttered words that could have had a bearing on his otherwise innocent life," he says as he points to the site where the semi-permanent house of his son lay.
But what did the son do to provoke Odhiambo and make him utter the destiny-changing words?
"He sold his belongings, my cow and even assaulted me... villagers claim he was planning to strangle me with a rope but I don't think so, the rope just happened to be at the scene of the assault," he says. "What is constant is that I said the words."
A close family member says the tussle between father and son happened when the 57-year-old picked his son's Black Mamba bicycle to go have some chang'aa in Ebukhutu village and forgot to return it. Joseph had gone to Ejinja shopping centre in Matungu constituency to sell scrap metal and when he returned home he roughed up the father on realizing he was the one who was last seen riding it.
The elder brother of Joseph, Julius Odhiambo, 32, admits that his younger brother was unruly and argumentative on the day.
He said that during the period he joined a radical religious sect which forced his father to dispatch him to Nairobi. He also believes that the separation between his father and mother in the early 2000s was not good for their upbringing.
"We thought it good that he stays with our mother in Nairobi because they are close and he really loves her," says Julius of his brother who scored 336 in KCPE exams in 2018.
"Soon, we would see him (Joseph) on TV charged with trespassing to Somalia with intent to join Al Shaabab. It broke my heart."
Their father, however, brushed off the separation matter as a cause of his jailed son's change of ways, saying if that was the case then all his nine children could be in Kamiti as well. Florence Nerima, the mother of Joseph, who stays in Nairobi, also told The Nairobian on phone that the separation did not impact negatively on her son's behaviour.
"He was polite when he came to Nairobi and I secured him casual jobs never imagining that he would be labelled a terrorist or even most wanted," she says.
"His twin sister Linet Sofia and I keep praying to Jesus that he frees him from prison and the sect. It hurts harder when I see how Linet suffers emotionally because her twin brother is in jail."
The family, which believes their kin's behavior can be restored, says they have never met since he was freed after spending six months in prison for the trespass, then arrested and jailed in 2019 for 15 years in relation with terror.
"Someone told me that since he was a terrorist no one was supposed to visit him in prison. I wish I could see him so that we settle the (bicycle) matter," says the father longingly.
Adding that, "I fear if at all he is released he might find me dead or worse still he would be brought home in a casket if he can't survive the jail conditions."