Man imprisoned for witch-burning regrets his actions, turned to God in prison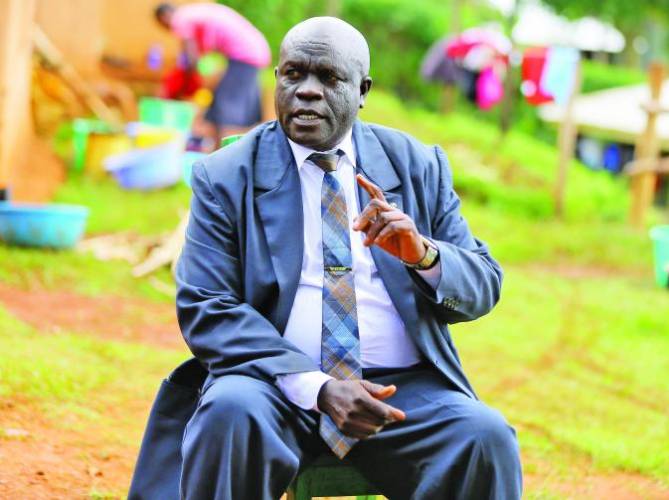 In March 2008, a Form Two student known as John Ondieki who hails from Matangi village, Keroka town, Nyamira County, was found almost five kilometres away from his parents' home at a place known as Embaro looking confused and having lost his speech.
The student, who was among the top learners in his class, could suddenly not speak, count figures or even remember his name.
The victim also had incision marks in parts of his body appearing as if his tormentors inserted unknown traditional herbs into his body.
The incident rattled the entire village. Who could have done this? They wondered.
Villagers, in their hundreds, quickly mobilised and took the victim to the nearby Ichuni Catholic Parish to a priest renowned for cursing witches and neutralising demons.
After hours of prayer and exorcism, the victim regained his senses and when questioned, he said that some people known to him called out his name at night from the house and took him to a long walk, known in the local dialect as ogotarigwa.
The victim wrote a list of five individuals personally known to him who he claimed to have "walked him" on that fateful night and bewitched him.
Then, the witch-hunt started.
"One of the men fingered as a suspect was in the crowd. Kama ni mchawi wache achomwe," Joseph Ongoto Ongoto alias Kenyambi, who was to be sentenced to death for hunting down and killing the alleged witch, recalls the chants of the incensed crowd.
Now 13 years later after the incident, Kenyambi recalls that fateful day as if it was yesterday.
"I served with dozens of people in prison accused of killing witches. All along, I kept asking myself if there was any evidence linking the claims of witchcraft to the people hunted down as witches," he said as we sat down for his first interview since being released from prison last month.
He had stayed behind bars for 13 years and four months when he successfully had his sentence remitted.
Despite appearing bulky and well-fed even when behind bars (from photos), he described his incarceration as the worst episode in his life.
"I left behind a young family with no breadwinner for an act which I had no solid evidence. I hope my story will help others not to take the law into their hands in the so-called witch hunts," he advises.
Ongoto was jointly charged alongside his nephew Richard Moremo and Stephen Ondieki, the father of the form two student, with the offence of murder contrary to section 2013 as read with section 205 of the Penal Code.
They were accused of murdering a man identified as Ondieki Bureki, fingered as a witch by the victim.
"It was further alleged that he (the victim) was taken to the forest where he was tortured, and forced to drink a concoction mixed with blood. He became unconscious, and only regained consciousness on the morning of March 5, 2008, but that he remained confused," court documents indicate.
When the witch-hunt started, Bureki, who denied being a witch, was quickly apprehended as he could not run away as one of his legs was fractured.
His crutches were taken away and he was taken to the road where he was assaulted.
"It was the first appellant (Stephen) who tied the deceased with a rope and ordered that he be killed. The second appellant (Richard) beat the deceased on his back with a rungu, and the third appellant (Kenyambi) speared the deceased on the back and chest.
When the deceased fell down and passed out, some members of the crowd that had assembled collected firewood, while the first appellant obtained petrol from a passing vehicle. He poured it on the deceased, lit a match and set the deceased alight," court documents indicate.
After their trial, the accused were sentenced to death, a judgement which was upheld by Court of Appeal judges David Maraga, Gatembu Kairu and Agnes Murgor on February 12, 2016.
In August 2009, the trio saw their fortunes change after President Mwai Kibaki commuted death sentences to life imprisonment. They consequently underwent a re-trial which saw their sentences reduced to 20 years.
They walked out as free men having served for a cumulative 13 years and four months behind bars.
During his incarceration, Kenyambi served in various prisons among them Kodiaga, Kibos, Rachuonyo and Kisii.
Kenyambi, a father of four who was arrested at the age of 45, vividly recalls his life in prison.
While in jail, he says that he asked himself a lot of questions and decided to turn to God and ended up becoming a preacher after studying the Bible and earning a Diploma in Theology.
"It is difficult to find adequate evidence to point at someone as a witch. The public should not take the law on its hands," he advises, adding, "I normally persuade wananchi not to be quick to take action. Let the government act and take action. Burning or killing people is a straight murder case."
Now back at home, the father of four says that he has since repaired relations with the family of the deceased who are their immediate neighbours.
"Members of his family even came to my homecoming. We greet each other and have no issues. Time has healed wounds," he says.