Kakamega man with eight wives and 100 children says it is the will of God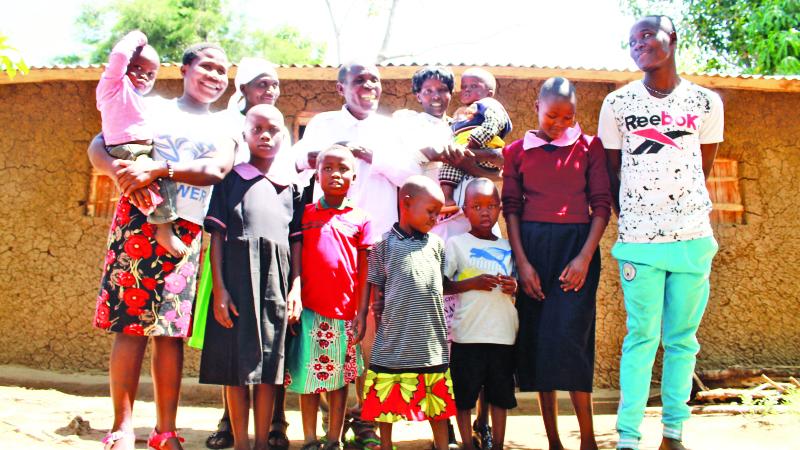 David Kalukhana, 61, married his first wife in 1990, one he says has been pivotal, together with the third wife, in welcoming the rest and showing them the ropes in his vast household. He talks about his eight wives and 100 children with a lot of pride, as he takes us through the family album, ticking off wives and the fruits of his labour.
"I have achieved what most men secretly desire but lack the guts to execute. Like everything in life, polygamy comes with challenges. But it is satisfying and has brought me peace of mind," says Kalukhana at his Teresia village home, in Malava, Kakamega County.
"My first wife is from Musanda village in Mumias. Then I went for a Maasai beauty, added two Luhyas from Kabras, and others from Uganda, Alego and Mt Elgon. The latest is from Nandi," he told this writer.
Kalukhana lives with two of his wives in Malava with six others spread across the country and in Uganda. When he married his seventh wife, the third wife played a big part in welcoming her. They even lived under the same roof.
Of his 100 children, three are in the US studying law and medicine while the rest are in college, university, secondary and primary schools in Kenya and Uganda.
"Maintaining more than two families is expensive and requires you to have wisdom and patience. You have to stand your ground and avoid being seen as favouring any of the wives. You should as well provide basic needs and pay school fees for your children," says the peasant farmer who also does manual jobs for a living.
He went on: "If you treat your wives well, they will respect you and coexist peacefully. Going to church has equally enabled me gain the wisdom and knowledge to solve emerging family disputes and manage the family."
He often visits the other women whom he has bought land for and settled in Mt Elgon and Uganda so that they don't feel neglected. He also has the phone numbers of all his adult children who own mobile phones and keeps talking to them on weekly or fortnightly basis. His third wife Josca Mukhwana, 39, says she got married to him when she was 15 years and has 11 children aged between 25 and fivee.
"I always welcome my co-wives, even cook for them and share my house with them before they move out to their houses. Of course friction flares up now and then among us but it always fizzles out with time," says Josca.
She cautions woman not to be "dramatic" when their husbands bring another wife home.
"If your man has decided to marry, there is little you can do. Fighting could be counterproductive. You better save the energy to talk to him to remember to provide for you and your children," she says. "It has worked for me."
Seventh wife, Josephine Cherono, 43, says when she met Kalukhana in 2004, he never revealed he was commanding a tidy harem.
"He had come to build a fence in our home in Nandi and I fell for him. In his home he introduced me to Josca who happily took me in as her co-wife.
"Kalukhana later told me I was the seventh wife. I had no option but to stay because I loved him. We now have ten children and may add more depending on what he decides," Cherono says.
But in another life, she says, she would not wish to be a co-wife. Cleophas Shisia, a 62-year-old Kabras polygamous elder, believes a man with one wife is likely to be unfaithful.
"When a wife is seven months pregnant, you can't sleep with her. After delivery, she needs at least three months before engaging in sexual intercourse. If you have more than one wife you simply move to the next house and fulfil your sexual desire," says Shisia.
According to the old man, having many wives increases the odds of getting children of both sexes and with varied talents.
"One wife may give birth to children with mental or physical challenges. More wives also compete and bring prosperity to the home," he says.