If you can't stop bribery on the road, legalise it - matatu owners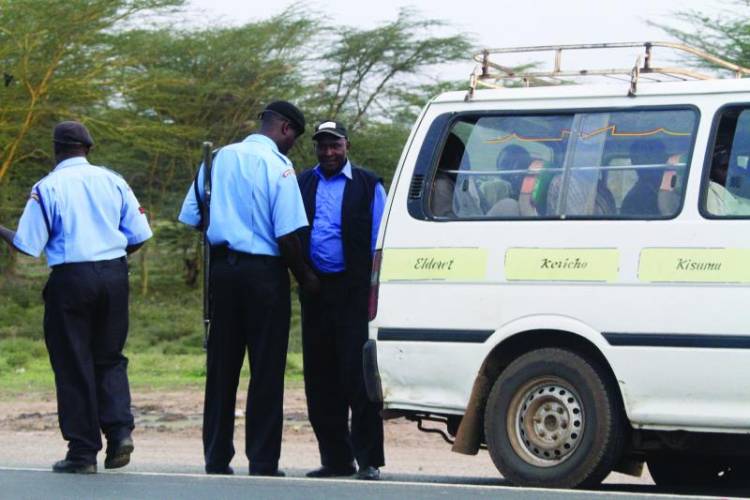 Matatu Welfare Association has accused traffic police of killing transport sector by collecting bribes from public service vehicles.
The association said the vice was being abetted by city county, askaris commonly known as kanjo, who equally demand their cut from the sector, leaving operators with very little money to survive on.
Association chairman Dickson Mbugua said the police and county askaris were robbing PSV operators of their hard-earned income.
At the same time, they said the government should consider legalising bribes on Kenyan roads and proceeds be channelled to other sectors and even NGOs to help the poor.
"Daily operations of a PSV almost yields nothing... We do not break even, leave alone sustain our operations," Mbugua told the media in Nairobi.
He regretted that the vice was widespread at a time the country is yet to recover from the effects of Covid-19, citing thousands of commuters who lost their jobs which negatively impacted the sector.
"It has become normal for law enforcers to demand kitu kidogo on our roads across the country. If you don't comply, your vehicle is impounded and you are taken to court with several charges and you end up paying more than Sh100,000 in fine," he said.
The association said the best way to end graft is to legalise it through enactment in Parliament so that every bribe solicited by the police will be receipted and the respective officers paid a commission for collection.
The association believes that the culture will be eliminated through the digitisation of instant fine payments.
"Cashless fare-paying/collection system in PSV will not only be effective but become a long-term solution and its application is currently in discussion by the stakeholders," said Mbugua.
"At the end if it all, the Judiciary will realise more fine collection as opposed to the current scenario where only a few law enforcers enrich themselves," he said.