Burning schools nothing new, dialogue, discipline needed, says Beatrice Adagala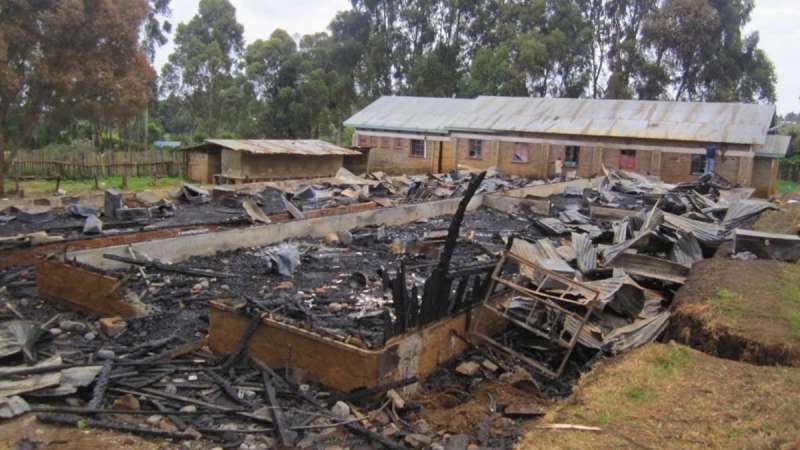 The Vihiga Woman Representative Beatrice Adagala has dismissed calls for caning to return to schools or abolition of boarding schools as cosmetic solutions.
Adagala has urged parents and religious leaders to take up their role in the family when children are away for holiday to advise and direct school-going children instead of leaving the whole role to teachers.
"Parents should take the lead role in reasoning with their children over their challenges while in school," she said. "Together, we must end these infernos and tensions within our learning institutions."
She said the first victim to carry the burden of indiscipline should be parents, as they are responsible for moulding character in children right from birth. On the other hand, she asks teachers to create an avenue where children can vent their issues.
She also accused the government of turning a blind eye to the situation as many schools go up in flames.
"It is my plea to the government of Kenya and all stakeholders in the learning fraternity to urgently engage in order to provide long term and sustainable measures that would stop these uncouth happenings in our schools."
She further said the unrest in schools has been witnessed for over ten years and the government should not act as if it has started happening now.
Instead of finding the root cause of unrest in schools, she protested, the public is celebrating the vice and asking about caning.
"Let's not be quick in making harsh decisions on our children. As a mother, it unsettles me when the sons and daughters we have born and nurtured, take the wrong paths of burning schools, causing unnecessary unrest in our learning institutions. Let's find what is ailing our children." said Adagala.
The Vihiga lawmaker expressed concern about the incidents that have led to serious injuries to students, reduced dormitories to ashes and disrupted learning.
She noted that some schools which have never been involved in cases of indiscipline like Chavakali High School, Kakamega high school, Sigalame high School, Buruburu girls experienced fires in the recent past.
"I urge all parents to exercise your authority by not only providing the basics but above all by setting the boundaries in matters discipline from a very young age", said a Vihiga legislator.
A total of 7 schools in Vihiga and Kakamega counties have been affected by the unrest.
The latest in Vihiga is Chavakali which has experienced two fires in a span of two days and was closed indefinitely as students went on rampage destroying school properties.
Others schools affected are Chebunyo Boys High School, Koiwa Boys', Kanjuri, Moi girls Marsabit, Dr. Krapf Boys, Ringa high, Kanjuri high, Kimilili boys, Ofafa Jericho high, Kambaa girls, Kipkabus boys, Nyamagwa high, Gendia high, Kibirigwi girls, Kijabe boys, Othaya high, Karima boys, Makueni boys, Malindi high, Kiriani high, Osingo mixed, and Mogor Secondary School.
Muhoho high school students peacefully walked out of school and headed home. It is alleged that they had asked the school principal to give them a break and will communicate when to be back.
In Bomet County, Tenwek High School was closed after a night of tension as students threatened to go on the rampage.
Independent or not, you need a man
When we step back from our hard stands of 'I do not need a man' then we will realize just how much we need them for the society to be complete.