Lilian Nganga calls for fraud investigation on Governor Mutua amidst increasingly nasty split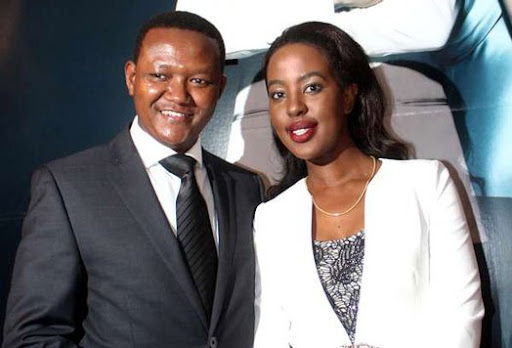 The split between Machakos Governor Alfred Mutua and Lilian Ngang'a is anything but amicable, as new revelations emerge on an increasingly sour relationship.
In a November 4th press conference, the former first lady expressed her growing frustration at an alleged determination by the Governor to make her life difficult.
"On repeated occasions," Ms. Ngang'a's statement reads, "I've seen Mr. Mutua state in print and social media that we are still friends, and our separation has been amicable. These are Mr. Mutua's usual theatrics and lies. Mr. Mutua and I have not spoken since late August 2021."
She goes on to describe attempts by Mutua to complicate her life. First, by reclaiming a vehicle registered to her. In the company of a police bodyguard, Mutua gained access to and drove away her motor vehicle, which he then sold, according to Lilian.
"Along the same fraudulent conduct, Mr. Mutua recently and illegally transferred my shares in the Ndash Enterprises LTD (the hotel company) to his sister Ann Mbandi Mutua. Again, a clear act of fraud."
Stating that the acts were a clear overreaction to their separation, Lilian sought to resolve the matter amicably, approaching the governor and requesting her car and shares back, and for a mature separation. After all, as she reminded him, they were long-term partners, never married.
According to her, his reaction was less-than-friendly.
"Mr. Mutual angrily termed me as his enemy no.1 and threatened to crush me to ash...he also threatened to harm persons close to me." He demanded all the money he had ever sent her, threatened to harm persons close to her and demanded that she delete social media posts she had made regarding their breakup.
Lilian is now inviting the Inspector General of Police and Director of Public Prosecution to carry out investigations and charge Mutua for the frauds he has committed. Further, she is calling out "an insidious form of GBV, known as psychological and economic gender-based violence."
"Mr. Mutua is now out to destroy me both psychologically and economically, and must be stopped by the Government."
"I now understand firsthand how and why many women continue to suffer in silence, and especially if their partners or former partners are in positions for power and influence. I urge all women to speak up against any form of violence by partners who feel entitled and cannot take No for an answer."
As for the Governor, Lilian insists: "He needs to get a life and move on."