Renowned mama pima quits chang'aa business due to male clients demanding sex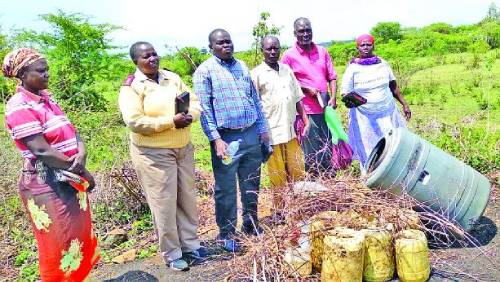 A woman renowned for supplying Suba residents with chang'aa has finally quit the business over men who demand sex after drinking.
The 39-year-old Trizer Akinyi gained fame at her Nyatoto Village, Suba Sub-county in Homa Bay County, for being the best mama pima in her village.
Men with chang'aa addiction flocked to her homestead every day to drink the liquor.
She started brewing and selling chang'aa in 2015.
However, in 2017, she stopped brewing chang'aa but continued buying and selling it to locals in her homestead. She used to buy a stock of 200 litres of chang'aa for sale per week.
Many people who operate chang'aa business hardly stop. But those who stop it do so under pressure from government authorities.
However, Akinyi decided to stop the business without conditions from the government.
What prompted her was the sexual messages she received from her male clients. She said she was uncomfortable with men who used to view her as someone they could have sex with them at any time.
She considered the men's conduct a humiliation in her family.
"There are men with the perception that ladies who sell alcohol are people with whom they can have sex anyhow. They used to make the demands, but I always resisted," Akinyi said.
Akinyi told The Nairobian that she was selling alcohol to earn a living but not for sexual profiteering.
"What the men did not know is that selling chang'aa was my way of earning a living," Akinyi added.
She complained that many men become violent after drinking alcohol. Some of them could end up fighting, turning her home into a chaotic scene.
What discouraged her further was an incident last month, after her employee's boyfriend committed suicide a day after a disagreement.
"The young man from Rapora village came to the lady, where she was selling my alcohol and had an altercation. The following day, we heard that he committed suicide," Akinyi said.
She went and recorded a statement with the police.
After recording the statement, Akinyi began contemplating how to terminate the business. She took a few weeks to sell the remaining alcohol before she called it quits.
She burned all containers she had been using to sell alcohol.
"I called our assistant chief Norah Okumu to come and witness that I was ending the illegal business officially. My vision is to become a supplier of omena. For now, I am undergoing financial difficulties, but I must persevere," Akinyi said.
She has also decided to become a staunch Christian. Okumu applauded Akinyi for the move and urged residents to engage in legitimate businesses.
"What Akinyi has done is good. Let residents avoid illegal businesses," Okumu said.