Veteran actor Ainea Ojiambo: I wear gold worth over Sh1 million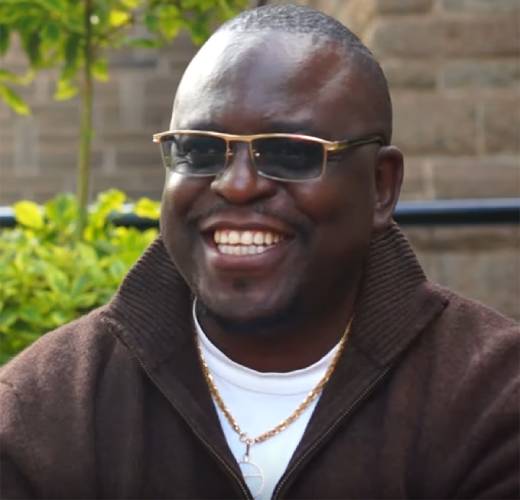 Actor and security expert Ainea Ojiambo is a man worth his weight in gold.
Speaking at an interview, the actor and security expert, who was the victim of an attempted mugging earlier in the year, revealed that he wears jewellery worth more than Sh1 million.
Ojiambo said, "That chain they wanted to rob is worth Sh400,000, what I walk on me is more than Sh1 million; the chains, bracelets, rings. Of the two rings, one is Sh150,000 and the other Sh170,000, my bracelet is Sh80,000."
"People invest in gold," he went on, "But why? I can put the money in land but now look at the way property has gone down and in case there is a problem like war you cannot run with your land. When you go out, gold has only two languages, how many grams and the karats," he said.
Ojiambo also shared details of how he was conned when he bought his first gold chain:
"I love gold because when I was young that's when I came across it. For the first gold chain that I bought, I was conned. I bought it from the streets for Sh20,000 and when I took a shower, it became silver. From that day I decided when I want gold I go to the goldsmith and that's where I buy all my gold," he said.
The actor also touched on the shooting incident he was involved in back in April, maintaining that he was protecting himself. "It was just thugs who thought I was a soft guy and they were attacking me. Naturally, I had to protect myself. If I wouldn't have protected myself, they would have taken away my gun, shot me and we would have one bad gun in the hands of bad people," he noted.
Ojiambo is easily one of the most accomplished actors in the country, having starred in a number of local productions. Away from the screen, he is a writer and producer as well. He is also a proud dad who hoped his kids had the soft life growing up.
"I have two kids, a son and a daughter. I feel pity for my son because I wanted him to live my life so he had it really rough because I took him to the best schools, he can't even speak in Sheng or Swahili. When he turned 18 I threw him to Europe and he has been in Europe for three years so for him it was crazy. My daughter is more demanding because she's a daddy's girl, she wants to see me most of the time and really spends my money but it's good."