Residents install alarm to keep millionaire widow safe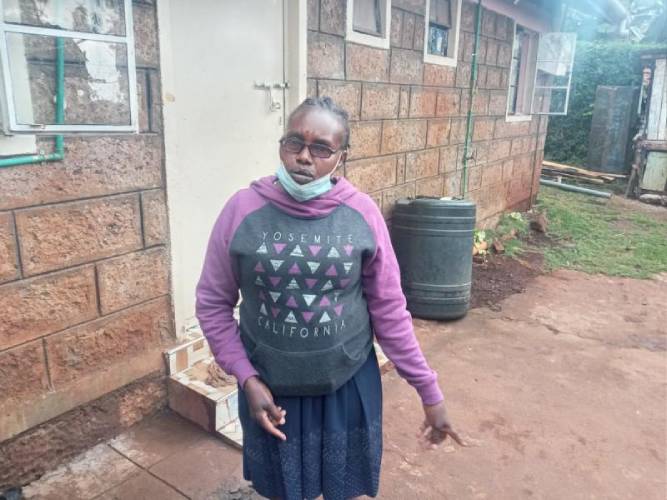 Residents of Kanunga village in Kiambu have installed an alarm for a widow fighting with her sisters-in-laws over million-shilling properties.
The move is to protect Naomi Wanjiru Mbuthu from potential harm due to constant violent intrusions into her homestead.
The 48-year-old mother of three is embroiled in property dispute with two sisters-in-law - Bernadette Murugi Gitau and Rose Murugi Mwiga.
The two siblings allegedly want Naomi out of parcels of land left behind by her late husband Eliud Ndirangu Macharia.
"My sisters-in-law claim I am a stranger and that the tie that bound us together was my late husband," said Naomi.
The widow said she has been subjected to verbal abuse since 2014 when Eliud died following a heart attack.
At the centre of the bitter fallout are several parcels of land in different parts of Kiambu left behind by the family patriarch, Joseph Macharia Kimani, now deceased. The old man also co-owned rental buildings in Kanunga and two apartments in Nairobi's Mlango Kubwa estate.
Kimani died before distributing the vast estate to his three children - Bernadette, Rose and Eliud. The properties are located in Kanunga, Karuri, Kijabe, Tingángá, Kawaida and Nairobi.
Being the eldest daughter, Bernadette sub-divided the properties in equal share after convincing her two siblings before filing a succession suit at Kiambu Law Courts.
It is alleged Eliud later disowned the property sharing agreement. He argued that as a son, he was entitled to all his father's property and the two sisters had no right of inheritance since they were married.
Unfortunately, he died before the conclusion of the succession case, leaving behind his wife to battle with his sisters.
The court on September 29, 2017 issued a certificate of confirmation of grant, allowing the relatives to share the properties as distributed in the agreement.
Bernadette, Rose and Naomi are entitled to nine parcels of land. But Naomi has requested the court to review the grant she claims disinherited her. She alleges her sisters-in-law are scheming to take over properties belonging to her late husband.
Bernadette and Rose have denied the claims. They have instead accused Naomi of being a pathological liar out to paint the family's reputation in bad light.
The dispute has turned violent on several occasions. On November 7, 2015, Naomi's eldest son was abducted by men who claimed to be officers from Karuri police station.
Quick action by chief Jane Gichihi of Waguthu location saved the boy's life. The administrator rushed to the homestead after a distress call was made and found the boy being bundled into a private salon car.
Such incidents prompted some of the villagers to contribute money and bought the alarm to ensure Naomi's and her children's safety.
According to Peter Njoroge Kingangi, a neighbour, the alarm is to detect intrusion, especially during the night.