Unapologetic, vulgar K'Osewe shooter gets 20 years in jail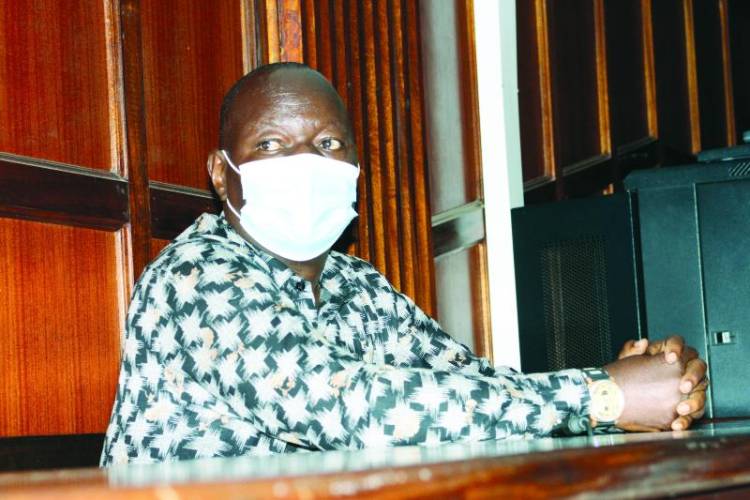 As he begins life in confinement, Tom Mboya Oywa must be regretting the December 1, 2016 drama that has finally landed him in jail.
A man with a foul mouth, as the court found out, Mboya will spend 20 years in prison for attempting to kill hotelier William Osewe.
He will also serve an additional three years for wounding Wilfred Ombunya Tembula, a security guard. The sentences will run concurrently.
Not once, Milimani Chief Magistrate Martha Mutuku reprimanded Mboya for using vulgar language during court sessions. Occasionally, he would be cautioned for contempt of court. There was a day he started chewing gum in court, attracting the wrath of the magistrate.
"Mboya has used bad language that has violated the dignity of this court despite warning him several times. I cannot allow a person to refer to another human being as an animal. I remand you until tomorrow morning so that you can think about the language to be used in court and also your conduct as we proceed with this case," Mutuku once said.
Mboya was found guilty of shooting and permanently maiming Osewe, the proprietor of K'Osewe Ranalo Foods located on Kimathi Street, Nairobi.
The two were close friends before they fell out over an alleged love triangle. Osewe suspected Mboya of having an affair with his wife.
During one of the cross examinations by State Prosecutor Anderson Gikunda, Mboya referred to Osewe as an animal.
When asked by Gikunda why he continued shooting the complainant who was already immobilised and lying on the ground, Mboya said he did so because Osewe was behaving like an animal, comments which the court deemed offensive.
Mboya's behaviour might have contributed to the penalty handed to him by Mutuku who said the tour operator was never apologetic.
"I have considered the probation report tabled before me and noted that the accused, Tom Mboya, never showed any remorse for his offence," said the magistrate.
On the fateful day, the businessman was shot thrice after he picked an argument with Mboya at Hagon Restaurant in Garden Estate.
He suffered two bullet wounds in the stomach and one in the neck.
Osewe had confronted Mboya, accusing him of having an affair with his wife.
Another bullet hit Ombunya, a guard at the facility.
Mboya told the court he was acting in self-defence since Osewe, who was equally armed, had in the past threatened to kill him.
"The complainant had previously said that I had slept with his wife and he was going to cut my manhood if I didn't stop. He cocked his gun twice but could not shoot and my aim was to shoot his hands," said Mboya.
Mboya, the man who used to work as a driver for Osewe, said in court that his former boss threatened to kill him in January 2015 at a petrol station where he was fuelling his car.
Mboya lodged a complaint with the police over the threats that came a year after he had reported the infidelity claims made by Osewe.
"I told him I didn't know his wife and I could not date her because I'm married. I even told my boss about the threats Osewe made to me," Mboya told the court.