Million Dollar Man prayed before walking out of bank with 11kg of 'stolen' money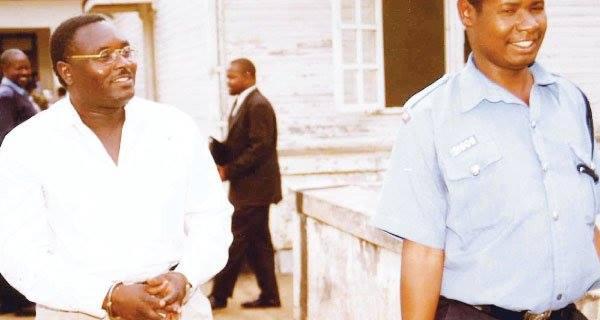 On Saturday, 4 January, 1997, Charles Omondi left his office at Windsor House in Nairobi. Tucked under his arm was a brown briefcase that had documents from Citibank giving him authority to clear consignments on behalf of the Bank.
Then he drove to Buru Buru for a couple drinks of with friends, exiting the pub at 9pm and heading home because he wanted a good night's sleep.
"I wanted to rest and sleep well. I had a lot of things to do the next day," Omondi said.
The man, who would create a media storm, then retired to his Donholm house for the night and woke up at 5:30am.
"I woke up, said my morning prayers before heading out to buy newspapers at 6pm. I came back home and had breakfast before leaving the house at exactly 10:30 am," he said.
Armed with all the proper documentation, Omondi walked into Kenya Airfreight Handling Limited offices at Jomo Kenyatta International Airport and handed over the paperwork to the principal cargo officer who was on duty. The documents identified him as a bona fide agent of Citibank with authority to clear a consignment of US$1 million that had been sent from the Bank's New York branch.
The supervisor saw nothing out of the ordinary with the release order from the Customs Department which authorized Omondi to collect the consignment on behalf of Citibank. He approved the clearance and Omondi left with 11kgs of cash totaling US$1 million. Charles Omondi Odhiambo was 44, and a dollar millionaire.
Born in 1953, Omondi was the first born to Elseba Oyugi and Mwalimu William Oyugi. He has eight siblings. Omondi, who says he is now retired from the fast city life, now resides in the village. A sweeping drive brings us to a sturdy blue metallic gate is opened by a teenage boy wearing a red football jersey. Sitting on half an acre, Omondi's home is dotted by indigenous trees and encircled by a neatly trimmed mature Cyprus fence. Standing outside his three-bedroom bungalow is a 2008 W211 Mercedes Benz E class with Tanzania number plates and next to it, an early edition Toyota Rav 4. Not too bad for a pensioner, don't you think?
I didn't steal the money
Omondi welcomes us warmly and once we are seated, he said, "I have never spoken about this. People have always speculated and some end up writing the wrong story. I want to set the record straight."
"Did you steal one million dollars 20 years ago from JKIA?" I put it to him, straight.
Omondi doubles up with laughter. "I didn't steal the money, I took it as the bonafide clearing agent and gave it to someone called Njoroge from the Bank. When I heard that the money had been stolen, I panicked and ran to hide in Tanzania.
"Let's start with my background. I grew up very poor. My father died when I was 10 years old and my mother didn't have a good job. She did anything she could to put food on the table.
"My father was one of the very few educated Africans before independence. He was a pioneer teacher and life was good as he had a steady job and generous salary. After he died, things became so tough that our uncles had to chip in and educate us."
In 1977, Omondi sat his Certificate of Primary Education at Ngunya Primary School, then joined Central High School before going to Technical High school in Ngara. He sat his form four exams in 1982 and joined Kenya Polytechnic where he did business administration and then Bandari College where he majored in Logistics, a path he says made him "a millionaire". Having worked for four years, Omondi quit employment and setup Chacho Inter Afric Limited, a clearing and forwarding company.
"I have always been a successful man. By the time this issue of the Citibank money came along, I owned a thriving company. Back then, on a bad month the least amount my business would gross is Sh300,000.* I had an office and employees in a prime address in the CBD. There was no time the parking lot in my home had less than three European cars," says Omondi. *(factoring the cost of living back in 1997 compared to 2021, the Sh300,000 amount in today economy would be Sh1.1 million)
Four months before the heist, Omondi met a 'Martin Njoroge' from Citibank, the man he claims set up the entire operation.
"A freelance clearing agent told me he wanted to introduce me to his friend who turned out to be Njoroge. I knew he worked for Citibank so he gave me the local contract to be the agent in charge of the bank," Omondi said, adding that in the four months, they did several trial runs where he cleared consignments for City Bank.
But independent investigations by The Nairobian indicate that despite Omondi insisting he didn't steal the cash, what transpired is that after clearing the one million dollars, he went to his office in town to pick up some documents related to some work he was doing in Tanzania. He then drove leisurely from Nairobi and by 6pm, he was at the Namanga border where he spent the night before driving to Dar es Salaam.
The theft wasn't realised until two days later and by then Omondi was already living like a king in Tanzania, despite having Sh250,000 bounty on his head. The Central Bank of Kenya later increased the reward money to Sh1 million.
But our investigations reveal that he found being on the run very expensive because people knew he had money to burn.
During our interview, Omondi revealed some details that he has never told anyone.
"Within two weeks after I went to Tanzania, I didn't have to hide, because the police came for me. I spoke to them. They knew where I lived and after a few days, they left and came back to Kenya without me," said Omondi.
After the heist, seven people were charged with theft and two were eventually taken to court. On 11th May, 2001, judge J.K. Mitey set free the principal cargo officer Simon Karanja Nduashey who handed over the money to Omondi, and his boss Julius Lelgek Rotich, stating: "There was no scintilla of evidence to show that the accused had a common intention with the appellants. The appellants will be set at liberty forthwith unless they are otherwise lawfully held."
Life in Kamiti was the worst
The heist and the subsequent lifestyle led by Omondi has been an urban folklore, told over fireplaces in village hearths, exaggerated by drunkards in pubs, admired by men with no guts to pull off such a feat, but only frowned upon by few.
A story is told that Omondi left Sh20 million to his local church bishop for safekeeping but the man of God had bought several houses with the money. Outraged, he bought a panga, came back and threatened the bishop who quickly transferred some houses to him after he left prison. Omondi denies all that. He doesn't want to speak about it, saying the bishop died a long time ago, and he doesn't want to dwell on the past.
Stories also abound of Omondi enjoying life in the Congo, being serenaded by rhumba bands that sang about his generosity as a bevy of beauties surrounded him. He laughs when asked about that.
"I only went to the DRC on business. And I stayed in Tanzania because of panic as police and media were all over the case," he said.
Business journalist Dominic Omondi says if you were to look at the Consumer Price Index (CPI) or the cost of living index, the same one million dollars in 1997 is worth Sh229.3 million today.
"This is because the purchasing power of the Kenyan Shilling loses value faster than the US Dollar," he told this writer.
Omondi says he came back to Kenya to surrender.
"I had been on the run, and I had spent all my money. I was broke. It's expensive being on the run. I came to surrender. Media wrote a lot of untruths about how I was arrested."
According to police, who fed the information to journalists, cops had been called on a public disturbance issue after a man beat up his wife. Upon being arrested, the police at Buru Buru identified the man as Omondi. Police said Omondi had sneaked back into the country, and found that his wife had moved from Umoja One to Buruburu Phase2. He then got into a fight with his wife on why she moved houses in his absence.
"That's their theory. The truth is my house was still in Donholm. My wife was away in America, so which woman was I fighting? I surrendered. I was not arrested. I took myself to the police and they wanted a juicy story to tell the media."
After being arrested, Omondi was charged with theft and was later handed a three-year jail sentence.
"Being in Kamiti remains the worst part of my life. When I was in the dock, and the magistrate handed out the sentence, I felt my whole world had collapsed. I saw my mother break into tears when I was sent to jail."
Although sentenced for three years, Omondi got a presidential pardon and walked out of Kamiti, a free and reformed man. He refuses to admit that his influential friends pushed for a presidential pardon.
Part Two of this story runs in The Standard on Saturday.