Money bags: How cops are minting millions from Covid-19 drunkards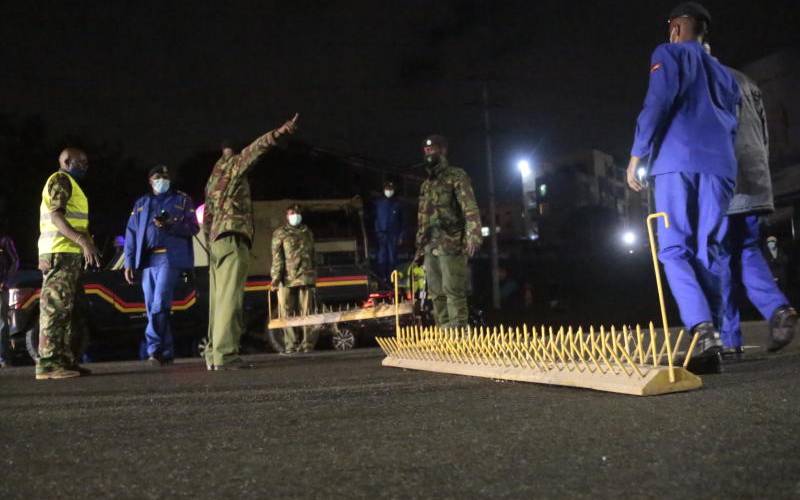 On July 23, at 7:08pm Jack Omondi (not his real name) was arrested by police officers outside a bar in Katani Road, Syokimau. Together with six other drunks, he was bundled into the back of a white double cab with civilian number plates. Destination, a police station in Machakos.
"We were thrown into the cells without being booked into the Occurrence Book (OB). But the female officer at the desk wrote down our names and ID numbers on a piece of paper. After 30 minutes, a new batch of walevi was thrown into the cell. By 11pm, the cell was full. I counted 27 men."
Omondi says when the cell became crowded, an officer of Somali extract walked in and told those who could raise a cash bail of Sh5,000 to raise their hands.
"Three guys were too drunk to even realise what was happening. But 18 of us agreed to pay the money and buy our freedom. Some people had the money in cash, while others had it on phone. We were taken to a different room within the station, as a fresh crowd that had just come in was thrown into the cells we had occupied.
"Here, a different police officer wrote down our names on a plain paper against the amounts each suspect gave out, which was a non-negotiable Sh5,000. I left with four other people because we had cash. I don't know what happened to the others who had it on mobile phone," says Omondi.
Our source at the police station says the war against drunkards started in August last year, and every week, depending on the time of the month, police officers are given targets on how many drunkards have to be arrested for their Sh5,000 'cash bail' money. Once a person has been arrested, his details are then written down on a piece of paper, and then thrown into the cells.
When the cells are full, a senior officer is called to come and release the walevis. He will also write down their names and ID numbers, and against it, write down the amount each person has paid to buy their freedom. The two lists will then be compared in the morning by other senior cops to ensure no fish was left out of the dragnet. Thereafter, the collected amount is divided between officers depending on rank. The tight knit operation is so smooth and rarely do hiccups come along. The biggest hiccup for officers is usually one loud drunkard who knows his rights, and can also place a phone call to a high ranking government official.
"Such people can be problematic, and officers are advised to deal with them on the spot rather than bring them to the station. Frequent walevis are also never brought to the station since they pay their fines on the spot if arrested because they already have struck a rapport with the officers," our source revealed.
He added that those who can't afford the un-receipted Sh5,000 are usually a handful, and they are taken to court on Monday morning where they will be slapped with between Sh500 to Sh 1,000 in fines. Between Friday and Sunday nights, our snitch said, a minimum of 150 people have to be arrested, and each has to cough Sh5,000 translating to a whooping Sh750,000 every weekend for the police.
The number rises during the end month period where the police officers are given targets by their bosses. According to an insider, between 27 and 31 of September this year, one police station in Syokimau arrested roughly 350 revelers from entertainment spots around the area. The amount paid to the police by those who had been arrested is a fixed non-negotiable fee of Sh5,000. This translates to a cool Sh1,750,000 collected over four days.
Added to the average Sh750,000 the cops collect every week, the ball park figure comes close to Sh2.5 million monthly. The scam, which has been going on for the last eight months, means the police could have comfortably made over Sh20,000,000.
"When it's an end of month weekend, raids happen daily, even on weekdays because they know people have money. In some joints, revelers drink but keep Sh 5,000 in their pockets for when the cops come in, they are paid on the spot, cutting the need to ferry drunkards to the police station," says our source within the station.
The operations on Syokimau are led by a corporal code named 'Ouma' because of his dark features, and he commands a white double cab vehicle with civilian number plate KBE **** and KBK ****.
Unlike Syokimau, where the price is fixed at Sh 5000, another police station in the leafy estates of Nairobi is open to negotiations with anyone arrested for drinking past curfew hours.
An officer within the station who isn't part of the lucrative night shift that scours entertainment joints in the area says their biggest hauls are usually the month-end weekend where the bosses allow the station lorry to carry out raids.
Recently, a raid at an entertainment spot along Kindaruma Road netted 43 revellers who were thrown into the lorry and had to negotiate their way out at the station.
"Depending on one's urgency and fear of police cells, some paid Sh10,000 to be released immediately while the lowest paid Sh3,000. Two men and a lady who were drunk, rude and tried fighting the officers were booked and taken to court the next day. The sting, from one joint alone, netted Sh352,000. By the time all the mahabusu had bought their freedom, the lorry was back again with a fresh load."
The cycle continues until past midnight when there are no more pubs to raid. "Some of the larger entertainment spots also have an agreement with the police bosses. They pay a weekly rate of Sh100,000 and no raid will happen in their premises, apart from the police on patrol who come in to pick kitu kidogo daily," reveals our source.
Our source, however, adds that even though the protection money is paid periodically, cops still come to raid the same joints.
"I know a place near James Gichuru Road where the owner pays every week, but when there is a raid, he is informed in advance and he warns his loyal patrons. Everyone else gets arrested and it will be another five or six weeks before the next raid," says our source at the station, who estimates that at the station, a minimum of Sh800,000 is collected every week from people drinking after curfew hours. The figure rises during month end weekends when police collect about Sh1 million.
A keen drinker, Amos Lwanga, who patronises joints in Kilimani, says when drinking, they usually have a bail out kitty just in case they are arrested.
"We don't negotiate one on one with the cops. They come in, we look for the senior most, and one person from our team negotiates with them. We are a small group of friends, and at any given moment, we are usually between six to 10 people. So we have Sh20,000 in our kitty. If they come, that's what we give them and they give us a few minutes to finish our drinks and then we go home."