I was billionaire Chandaria's photo man, but I now hawk masks, says Kiambu man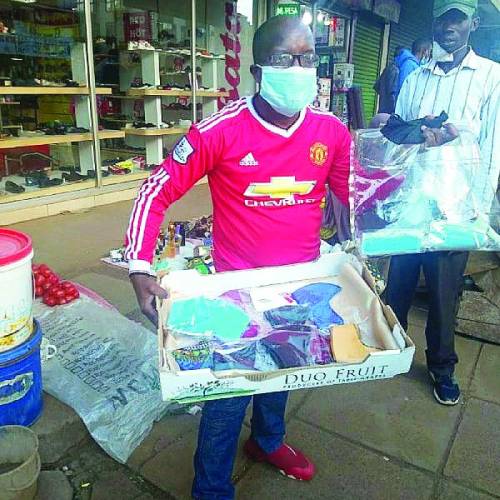 Robert Muthee dined and wined with kings. His life was good. Lavish and extravagant. He didn't mind spending millions for a good party.
Back then, Muthee was business mogul Manu Chandaria's photographer where he was paid Sh25,000 per hour to cover his 50th wedding anniversary.
He could easily pocket half a million in a day!
Fast forward to today, Muthee is a shadow of himself.
To eke a living, he hawks masks in Thika town. He is broke and angry at how fast his fortunes came crashing down.
The 49-year-old had a thriving business in photography and was invited to cover presidential events, where he was paid handsomely.
"I used to do video shooting and photography. I had my standard charges, depending on the package. Manu Chandaria used to pay me handsomely, Sh 25,000 per hour. It was a lot of money. I met him through a referral from the Indian community in Thika since I was the one who covered all their events, from weddings, birthday parties and entertainment gigs," recalls Muthee.
Muthee added that he has worked with all three presidents, which saw him become famous.
"I landed my first job in 1994 at Bidco Oil Refineries as a casual worker in the packaging department. I worked there until 1998 and later ventured into the photography business. For a few years, I had many clients. I used to meet former President Moi during graduation ceremonies at the University of Nairobi. We quickly formed a rapport and he used to invite me to attend some of his events. I was the official photographer during former President Kibaki's inauguration ceremony at Uhuru Park. I have also covered President Uhuru Kenyatta's events when he visits Thika," he said.
He reveals that his appetite for fine things in life cost him, driving him to borrow money from shylocks to sustain his lifestyle.
"I bought expensive cars that I couldn't maintain. I borrowed money from shylocks to go for holidays and attend exquisite hotels, just to keep up with the fame. Little did I know I was living on borrowed time," he said.
In 2018, out of desperation, he joined a pyramid scheme based in Brazil, which had promised him quick returns.
This was the beginning of his woes.
"I joined an online business, which was a pyramid scheme based in Brazil. During the first years, I made a lot of money and even recruited some of my family members and friends. I had invested all my savings in the business. From the profits that I made, I used the money to pay for holidays. However, the pyramid scheme collapsed and I lost all my money. I had debts running into Sh2 million. I was haunted by the people who I had introduced to the scheme since they believed I was a con," he said.
At the height of desperation, Muthee believed that he had been bewitched and even sought a pastor to pray for him.
"At some point, I worked at a car wash. Life was really hard. Bishops and pastors prayed for me since I believed I was bewitched. I had reached a point where most people would kill themselves, but I chose to accept my situation. I have started selling masks in Thika to support my family," he says.
Muthee said that despite his setbacks, he has learnt from his mistakes and urges young people to save and not live a life they can't sustain.