Dr Daniel Katambo: I lost my eye and hearing but still became a doctor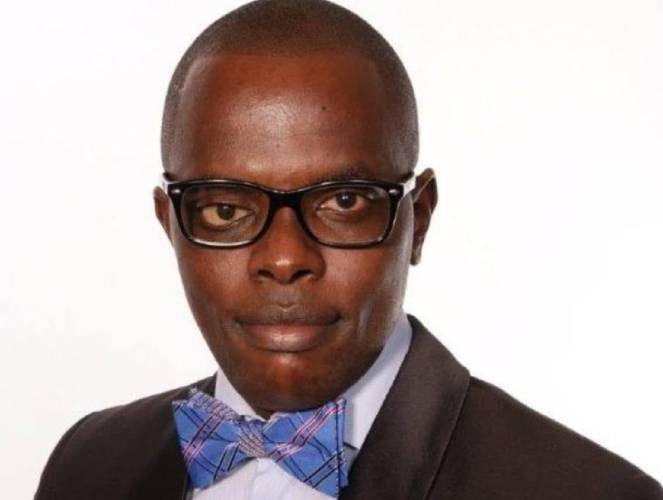 As a child, DR DANIEL KATAMBO, a consultant physician, had an eye injury that left him partially blind then a few years later he was hit by malaria that took away his ability to hear in his right ear. He spoke to ROSA AGUTU.
Where did you grow up?
I grew up in Eldoret, a place called Racecourse near Langas estate. I come from a family of five siblings I am the second born. My childhood was not eventful until I was nine years old when I lost my right eye.
What led to your eye loss?
It was in 1991. We were heading home from school when we heard some funny noises. Unfortunately, a stick hit my right and that is how I lost my eye. I have talked about this publicly so it's a bit unsettling.
How did you cope?
My siblings went to boarding schools, but I couldn't because I was treated as a special child and I had frequent checkups. Before the surgery, I couldn't travel. I remember travelling from Eldoret to our rural home in Makueni and my eyes would tear. It was really traumatising. At school, students and teachers would wonder what happened to my eye. Explaining myself was exhausting so I shifted from school to school.
How was the surgery?
I was in standard four when my mother told me that she spoke to a doctor and they thought it was best if my eye was removed. I went for the surgery, they removed my eye and I woke up with a plastic eye.
Did it affect your progress?
Not really, I had people who held my hand. I went to Chebisaas High School in Eldoret where I met Mr Musau (may he Rest In Peace)who really encouraged me and inspired me.
You also lost the ability to hear in one ear, what led to that?
In 1999, I got severe malaria. My mother took me to the hospital where I was given quinine that led to hearing loss in one ear. So you can imagine I lost my eye in 1991 and my hearing in 1999. It wasn't an easy childhood, but behind every success, there's someone who has struggled with something.
What other challenges do you have to cope with?
I have made several adjustments in my daily life. For example, in my office, I always want my patients to sit on my left. Most of them don't understand why and I can't keep explaining to everyone.
Hooting and other noises on the road really disorient me because I do not know where the noise is coming from.
What do you do apart from work?
I wake up by 4:30am, and I work out. I do 5-10 kilometre runs. I am quite athletic.
I also love teaching. I knew I could explain medical terms in a lay man's language and I grabbed the opportunity.
When did you join Medical School?
I went to University of Nairobi in the year 2000. I did my internship in 2007, 2009 I did my MBA, 2012 I travelled to Bermuda until 2019 when I came to the country to introduce the diabetic reversal programme where we did a research for one year before Covid hit.
Where did the interest to fight diabetes begin?
While I was at St Mary's Mission Hospital in Gilgil between 2008-2009, I started seeing more of diabetic patients and how they were suffering. When I went to Bermuda to do my masters in Internal Medicine, I focused more into chronic diseases. It was very clear in my mind that I wanted to be a physician.
How can Diabetes type 2 be reversed?
While in Bermuda, I met Dr David Cavan who wrote a book about how to fight type 2 diabetes. He said he saw changes when patients focused on lifestyle change. Therapeutic nutrition. This also changed how I practice.
The same patient who was coming to me with insulin of 80 units per day would feel much better and end up using one or two drugs, if they change their lifestyle. I realised that the only way to manage diabetes is lifestyle and medication.
Who inspires you?
I have drawn a lot of inspiration from my mother. Our bond grew stronger when I was young during the many medical checkups. She made sure I never missed any of my appointments. She was determined. We would pick matatus to see the doctor and wait for three to four hours before we were attended to. I am very grateful to her.
Career wise, in our last two years of university, we were attached to different mentors. I remember my mentor was Dr Wanjeri, who was a surgeon. He showed us another way of medicine that there is life to medicine. This mentorship played a key role in my career.
When I went to Bermuda, Dr Cavan took over and mentored me.
Here in Kenya, I draw a lot of inspiration from many health workers, but mostly Dr Eva Njenga, who also mentored me and we established the first diabetic reversal programme in one of the biggest private hospitals in the country courtesy of her.
What's your vision?
We have a lot to do, people need to know that type 2 diabetes can be reversed. This way we can save many patients from death, blindness, amputations, heart attacks.
If we can bring this to the table of every patient suffering from type 2 diabetes, it will go a long way.