Narok family left homeless, roofless over Sh17,000 rent arrears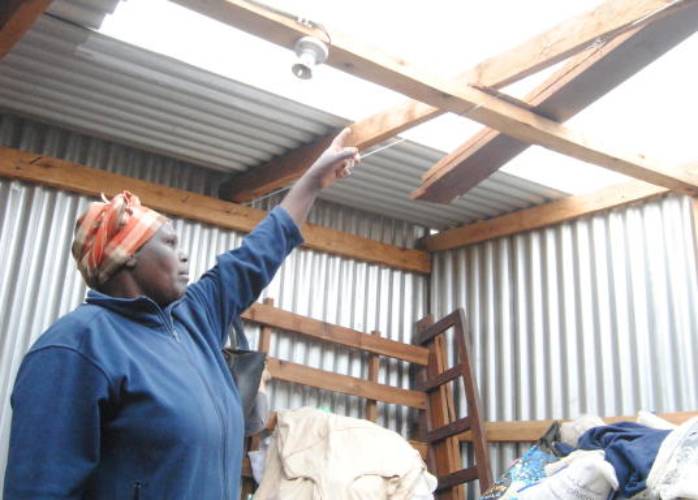 A Narok woman said her landlord removed iron sheets from the roof of her rental house because she was 12 months late on rent, but a local government official said that violates her rights.
Helen Ruto said her husband lost his job in 2014 after being involved in a road accident that has affected his mobility and they are behind in paying rent, which has since accumulated to Sh17,000.
The landlord refused to answer questions from The Nairobian and drove away.
Helen, her husband Richard Ruto and their three children have been forced to huddle in a corner of the semi-permanent house at Total Estate after the enraged landlady removed the iron sheets.
"My husband got a terrible road accident in 2014 and suffered spine injury, which has severely affected his mobility. He is therefore not able to provide for the family. We were shocked last week when she came and removed our roof despite my pleas," a teary Mrs Ruto said.
She said that for the last one year, she has not be able to raise the rent, which is Sh2,000 a month since she is now the sole provider of the family.
She told The Nairobian that she does menial jobs such as washing clothes to fend for her family. She makes about Sh200 daily from the jobs.
"I have nowhere to go. My roof is now open and my husband is sickly. I fear that should it rain, we will be in trouble. I appeal to well-wishers to come to our rescue as we do not have anything to offer," she pleaded.
A government official at the Rent Tribunal told The Nairobian that the action by the landlord was illegal and inhuman, saying subjecting the family to such misery was not right.
"Such stories are common. The tribunal usually takes a few calls from landlords, but now we are getting calls at least once a day from tenants who are having their doors or locks taken off, being locked out, or having their utilities cut off.
"We try to call landlords and inform them that they're violating the law by evicting people. You can only be evicted by a court order and with the police present to execute an eviction," said an officer who did not wish to be named because he is not authorised to speak to the media on official matters.
Lucyline Makena, a neighbour, said the family was in distress and in need of financial assistance and an alternative abode.
"We have been living with them for the last few months and I have witnessed their struggle. The wife is the sole breadwinner and she has no job. We tried pleading with the landlady to have pity on the family but she heard none of it," said Makena.
She said the landlady has been threatening her to leave or face eviction.
"She keeps calling me asking why I have not left her premises yet I have nowhere to go. I am stressed up."