Lillian Ng'ang'a: Beauty who loved Dr Alfred Mutua and fine things in life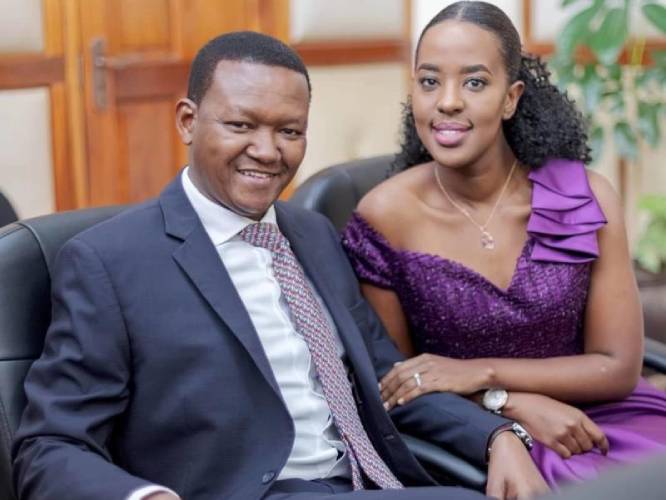 Lillian Ng'ang'a, the estranged second wife of Machakos Governor Alfred Mutua, was many things to many people, depending on who you talk to in Machakos county.
But to Mutua, a man who once professed his love in public, Lillian was simply 'honey and love'.
That was until "winds of change" — according to her Instagram post — blew Lillian's way recently, and she brought their eight year showbiz love life to a screeching halt, resigning as county First Lady in the same public glare in which she became the Governor's consort.
As First Lady, Lilian, a sculptured beauty with killer legs, accumulated so much power that even senior county government officers trembled when they sniffed her designer perfume in the air and with good reason: Lillian was not your average, laid back, provincial county First Lady in a tired wig.
Rolling in fuel guzzlers, her face hidden behind expensive designer goggles and with a band of armed men in tow and chase cars blaring horns, Lillian's convoy in Machakos town and its environs left locals awestruck.
Often times, her security detail would clear the road for her as she moved from one point to another to attend to numerous chores in the spirit of her husband's Maendeleo chap chap.
Number one confidanT
Governor Mutua made everybody know that his wife was his number one confidant. And if he needed to buttress this point by kissing her in public, or holding her hands, or dancing together in public events, and generally gushing over her, Mutua did it with remarkable energy and his trademark spin. He was the teenage boy who had found love.
The governor would not miss an opportunity for a photo shoot with his 'love' in public. Their album of photos in the public domain taken together is a testimony of a power couple who lived and loved the limelight.
"She had her husband's ear. And we had to do everything to be in her good books. If she did not like you, your goose was as good as cooked," revealed a county government officer who described Lillian as warm lady but also a bully when she chose.
When she burst into the scene soon after Mutua was sworn in as governor in 2013, Lillian was a little known personality with a taste for finer things in life. It was at a time when the governor was recovering from a shuttering divorce from his first wife, Josephine Thitu, who, after severing ties with Mutua, took a flight to Australia together with their three children. Lillian, it would appear, was the perfect super sub who leapt straight into the game.
The two were madly in love and the governor showered his catch with the kind of adoration befitting a Mexican soap opera. They were involved in sporting activities, often running together in County-sponsored marathons.
Mutua also created an office for her and allocated her roles, among them creating awareness on health issues such as cancer.
Through these activities, Lillian became visible across the county and in the process created an aura of power, authority and influence. That, coupled with her flashy lifestyle, sense of fashion and bewitching looks sent echoes of a modern day Imelda Marcos.
As the ultimate mark of their love, the governor built a hotel in Machakos town and named it A&L, initials for their names Alfred and Lillian.
Graduation
In 2019, when Lillian was graduating from JKUAT with a masters degree, Governor Mutua was over the moon. "I am especially happy that the love of my life Lillian is among the students graduating with Masters of Science in Project Management. She makes me very proud as she graduates top of her class. Way to go, honey," Mutua coed.
So why did Lillian jump ship, leaving a man with presidential ambitions?
"…two months ago, I decided to end my long term relationship with Dr Alfred Mutua. We had a good run and I am forever grateful to God…." she wrote on her Instagram page. For her, their relationship was akin to a run, perhaps a marathon that had to come to an end, somehow.
While Lillian is talking of how she decided to end the relationship, Mutua on the other hand was talking of how 'they' had mutually agreed to separate and give each other a breathing space.
"There is a song by Roger Whittaker that has the line: 'the first time we said hello, we started to say goodbye' Lillian and I have been a blessing to each other. Two months ago, we decided to slowly disengage. We are in amicable terms and remain very close as friends. Lillian has been an excellent First Lady ….she will be a close advisor as I govern Machakos County and run for President because I trust her sharp insight and heart. She has always been my number one fan. Our love for each other is permanent...we have agreed we will protect and support each other," Mutua's winding post reads in part.
Before their separation, Lillian had on several occasions kept away from public events hosted by her husband, fueling speculation that their candy love had gone south. At about the same time, keen observers recall pictures of Mutua on holiday in Dubai, striding on the desert sand, seemingly in deep thought. That Lillian has deleted most photos the couple took together from her social media pages means, luwere. It's over.
Mutua helped her establish Lillian Ng'ang'a Foundation
After primary school, Lillian joined Thogoto Girls High School after which she tried her hand in modelling.
Later, she pursued a course in front office and hotel management at the University of Nairobi.
She briefly worked at the Safari Park Hotel and later at Kenya Airways where she stayed for six years.
She also entered into the Salon and Beauty parlor business which she later gave up and ventured into Tour and Travel. Mutua helped her establish Lillian Ng'ang'a Foundation ostensibly to engage in charity work.