Lillian Ng'ang'a ends relationship with Governor Alfred Mutua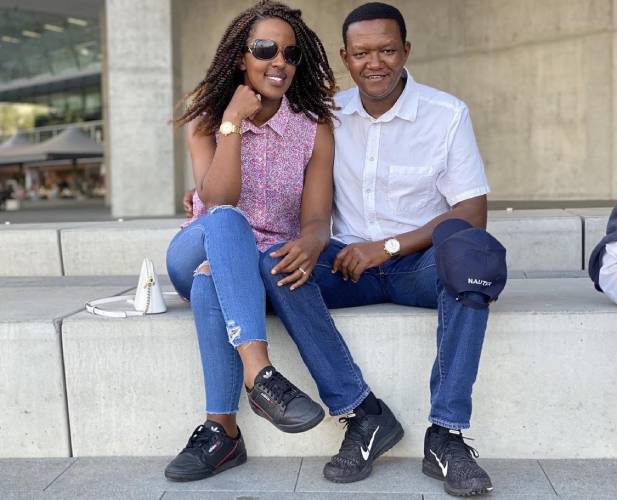 The month of August seems to have started on a very low note for Machakos County Governor Alfred Mutua as his long term girlfriend Lillian confirmed on social media that she has decided to end things with him.
Back in 2014, Alfred Mutua was married to his now ex-wife Josephine Thitu Maundu with whom he has three children; the two were caught in a bitter public battle for the custody of their children and matrimonial property, but he lost the case and was ordered to pay for the cost of the suit.
The governor made public his relationship with Miss Nganga shortly after he was elected to office, cementing her status as the First Lady of Machakos County. The relationship was, however, rocked with allegations and rumors of cheating.
In a statement released on her Instagram, Nganga said that she ended the relationship two months ago when winds of change blew her way.
" The only constant in life is change and we MUST be present and aware to appreciate and embrace it," the post read.
"Winds of change blew my way two months ago, I decided to end my long term relationship with Dr Alfred Mutua. We had a good run and I am forever grateful to God he brought us together. We remain friends.
With this, I put down the Machakos First Lady cap – and what an honor it has been to be of service! I will continue to do projects close to my heart, charity work etc through the "Lilian Nganga Foundation"as this has always formed who I am as a person.
God's plans are always for our good. Never doubt or question.
Lillian Nganga."
A quick spotcheck on the former First Lady's Instagram reveals that she has apparently deleted photos of herself with the governor from earlier than 2021. Governor Mutua still has them up on his page.
This barely a month after the Governor posted a lovely message dedicated to her on Instagram.
"Happy Birthday, my love," the June 22 post read in part. "May God Almighty give you many more years of blessings and the joy captured in your gorgeous eyes in this photo."
Was the Governor unaware of the winds of change blowing so close to home?
He has since come out with a cordial message posted to his page, acknowledging the split and wishing Lillian the best:
"I thank God for bringing Lillian into my life and the many ways we have made each other grow. We have had a laugh and at times a tear but all in all we have been a power couple and very happy. We celebrate life and are pleased that we have reached this decision in a mature, agreeable manner."