Why beggars, urchins and the disabled are being ejected from Nairobi streets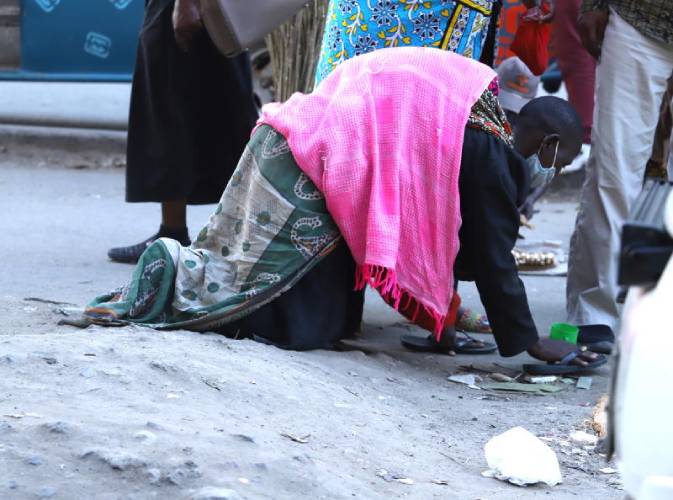 Following complaints by members of the public that homeless people, beggars and people living with disabilities are encroaching some restricted areas in Nairobi city centre, the County government has now started ejecting them from the streets.
Some of the areas targeted include Uhuru highway, Kenyatta Avenue, Mama Ngina Street and Moi Avenue where some groups of beggars said to be foreigners mostly frequent.
William Kangogo, who is in charge of the operation, told The Nairobian the exercise will continue for one month after complaints that some disabled beggars were from neighbouring countries.
"The directive was given by the national government that beggars had invaded places in CBD all the way to Uhuru Highway.
"Some of the disabled are foreigners and that is why the operation involves Immigration officers to find out their nationalities," said Kangogo.
The joint exercise involving Nairobi Metropolitan Services and National Police Service, among others, is also aimed at netting homeless people and relocating them to rehabilitation centres.
The centres, Kangogo said, include one in Kayole hosting women and girls from one year old and above, Makadara for boys aged one to 14 years, Joseph Kangethe, Shauri Moyo and Mji wa Huruma in Runda for the elderly aged 50 and above.
"We are also investigating who is housing the foreigners because some of the people living with disabilities are taken to Huruma. We have shared the information with investigators to find out so that we can conduct a raid and smoke them out," he said.
"We also appeal to Non-Governmental Organisations to erect tents within the centres and health workers to support us in terms of treatment," added Kangongo, who is also coordinating the operation within the 17 sub-counties in Nairobi.