Expedite my case, I need to fly to South Africa for treatment- Ringtone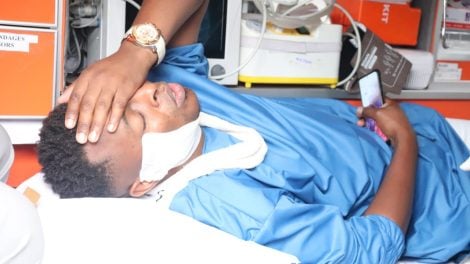 Kenyan gospel singer Ringtone arrived at Kibera courts in an ambulance. Face partially bandaged, he was driven in to witness renowned blogger Robert Alai take a plea on an assault case following a road rage incident last week.
Ringtone had accused Alai of assaulting him and causing him injury. But in a turn of events, Alai could not enter a plea as the file was recalled by the Office of the Director of Public Prosecutions for further perusal, a move that left him in tears.
He, however, urged the DPP and Inspector of General Police to move swiftly on the matter since he was to fly to South Africa for intense medical attention as he was not feeling well.
This was as a result of an argument following claims that Alai hit the singer's car while he was dishing out money to the public along the University way.
The two are claimed to have accused each another of obstruction. In a video circulated online, Alai was seen getting out o his car with a wooden Club while the singer was on top of his range rover crying and accusing Alai of taking the law into his hands and beating him.
Ringtone also accused Alai of damaging his car. "I do not provoke Alai. He came to my car with a rungu and damaged the windscreen and he managed to attack me. I want the matter to be settled in court and that way justice will prevail. I do not want any money from him."
Hide your knickers
Hanging your underwear on a public clothesline makes them public property