Stray dogs causing fear, mayhem in leafy suburbs of Ngong'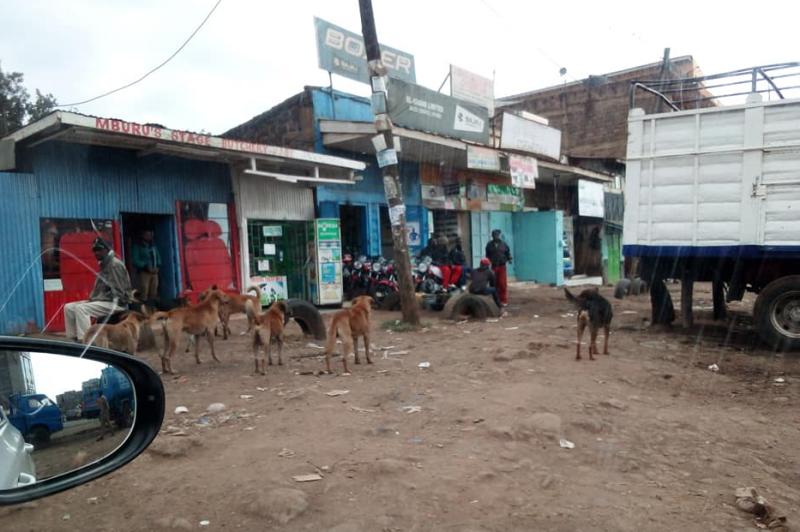 Traders and residents living in and around Ngong' town are alarmed over the increasing number of stray dogs in the town.
The residents say for months now, the canines have been roaming around in packs, scaring passersby during evening and morning hours.
"The nuisance of stray dogs is increasing here and you can find them roaming freely in packs. People are risking their lives while moving around," trader Alphonce Mugo told The Nairobian, adding, "It has become difficult for residents to go for morning or evening walks, even in groups, because of the dogs."
A resident, Loise Kwamboka said one of her goats went missing not long ago, and she suspects it could have been attacked and eaten by the dogs.
"I asked around the town and some people said it could have been killed by the stray dogs. It is the first time this has happened to me, now we are afraid to let our children go to school alone as they could be attacked by the dogs," she said.
Residents have called upon owners of the dogs to take care of the animals, since some may not have been vaccinated and could spread deadly diseases.
"We may be forced to deal with the dogs ruthlessly if the owners will not take the necessary actions. We also appeal to the veterinary department to come out and vaccinate dogs in estates against rabies," said another trader.
Area Member of County Assembly (MCA) Robert Muoria said he has received the complaints from residents and the matter has been referred to concerned department.
"We had talked to veterinarians and even though the issue of animal rights is there, the residents had requested us to deal with the dogs but it will be handled by that department" he said.