Wonders never cease: Cow gives birth to healthy calf with two legs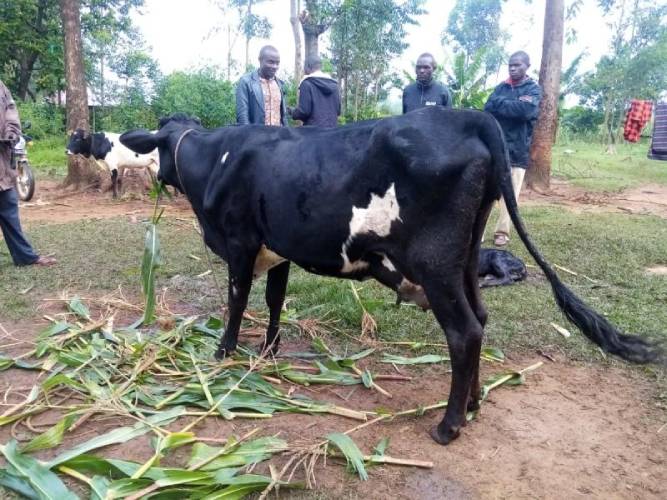 Residents of Nang'anda Village, Navakholo constituency Kakamega County were treated to a rare incident after a cow gave birth to seemingly healthy black calf without hind legs.
Hundreds of locals flocked to the homestead of Zinab Makokha, owner of the cow to witness the never-seen-before incident.
According to Makokha, the cow had a smooth gestation and he had hopes of receiving a normal calf.
"I was happy that my cow was pregnant and was about to give birth. I knew it would eventually give birth to a healthy calf and provide us with milk which I had banked on to help me pay the school fees," said Makokha. "However I was really shocked when it gave birth to a calf with two legs only instead of the normal four legs."
He added: "Imagine neighbours and people coming to see a calf with two legs and not four, I was expecting a healthy normal calf considering that I fed my cow with the right diet."
According to one villager identified as Alfred Mmatsi, the rare incident is a sign of witchcraft .
"I tend to believe something strange must have happened, somebody jealous might have enchanted this cow and ritual cleansing must be done because it is something strange and new to to this county," he said.
But area Veterinary Officer Rajab Baraza came to clear the air.
"Such incidents are prone to happen mostly when a cow below three months is treated without following expert's instructions," he said.
His sentiments were echoed by Area Chief Aggrey Oyalo, who urged locals and farmers to seek advice from cattle experts instead of offering self-medication.
"This is just genetic abnormalities and not witchcraft. I urge farmers to always seek further information and directives from experts so as to raise a healthy cow that gives birth to a normal and healthy calf," said Oyalo.