Court releases couple linked to assault and kidnapping on bond; "They are innocent until proven guilty"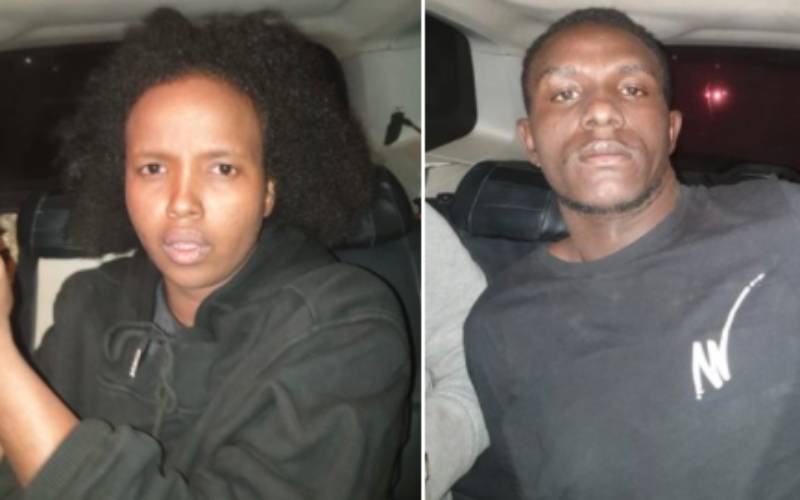 A man and a woman who were recently arraigned for allegedly confining and torturing a23 year's old woman and stealing from her have been released on a one million bond pending pre-trial.
This was after the court found that there were no compelling reasons to warrant their detention and bond denial following submissions made.
The two, Hafsa Abdi Ahmed and Jackson Njogu Wanjiru appeared before Makadara courts Chief Magistrate Heston Nyaga where they pleaded not guilty to the offenses of assault, abduction, conspiring to commit a felony, disabling and stealing, against Hafsa Mohamed Lukman
The court heard that the duo, together with others not before court abducted at Kayole Junction and confined her in a house within Matopeni area in Kayole between June, 15 and June, 20
The two are accused of conspiring to abduct Hafsa and stealing from her bank accounts a total of Sh, 615,000 between April 2021 to June, 15.
On the third account, they are said to have disabled her by means calculated to choke, suffocate, strangle and feed her with sawdust, the dust-covered her mouth with a tape and tied her hands with manila rope and blindfolded her to render her incapable of resistance.
The two were further charged with the offence of stealing Hafsa's iPhone, jewellery and cash money from the Mpesa account all totalling to 335,000. They are allegedly claimed to have assaulted her.
Hafsa had been lured into a lucrative watermelon business before she was abducted. She had been confined in a house not far from the police station.
In the latest updates, the accused Abdi has been charged for obtained sh, 270,000 from Halima Rashid Hassan, another businesswoman on diverse dates of January this year at Kayole, Embakasi East by falsely pretending she was in a position of supplying her with watermelon.
Hafsa was forced into an empty water tank where she was tortured while the accused persons demanded for a ransom of Sh 5Million.
She was rescued five days later after she tipped a minor who was passing by through an opening in the house to help her by informing her parents that she was being held.
However, Abdi's counsel Danstan Omari objected to a detective's application to have the accused person be detained further and denied bond saying that there were no compelling reasons to show that they would abscond court.
Omari had stated that Abdi was tortured by the arresting officer and assaulted while naked beaten by a bottle and strangled, evident by marks on her thighs, breast and neck.
"The accused persons effected their plan by making everyone believe that Abdi was also a victim of police torture to divert attention," says the officer.
The court in its ruling noted that the state had raised several grounds in that the accused were a flight risk with no known place of abode. They were found with numerous sim cards with different IDs and that they were likely to interfere with witnesses and since the offence is a serious one, and that the public might harm them if released.
"The fact that Abdi is of Somali tribe with Kenyan parents should not make her less of a citizen. She is entitled to enjoy the rights that a Kenyan citizen enjoys. No tangible evidence showing that the accused are an imminent danger to the public. They retain the derogable right to be presumed innocent until proven guilty. That cannot be assumed just because the case has received a lot of attention." Reads the ruling in part.
No threats have been reported and if such arises then the court has every power to cancel bond terms at any time.
Having been granted the bond with no cash bail, the court warned the accused against contacting the complainant or any witnesses.
The court further directed the accused to be reporting to the investigating officer every fourth night at dates to be agreed on until further orders of the court. The case shall be mentioned for a pre-trial directing at a date to be set.