Agony for Malava residents over killer road with a taste for blood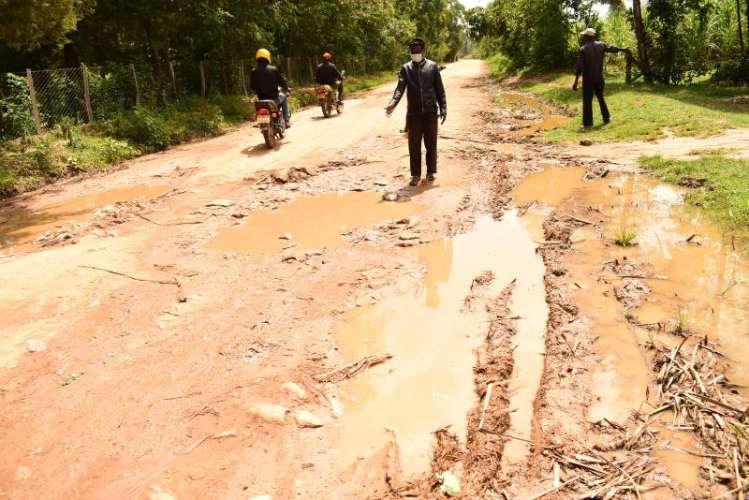 The dusty and dilapidated 12-kilometre Kambi Mwanza-Lukume Road has claimed many lives in the past few of months.
Locals believe that the road has high appetite for human blood.
It has been nicknamed "the killer road" due to the many lives that have been lost either involving boda boda riders or trailers ferrying sugarcane to factories in Kakamega North.
On September 15, 2020, three people, including a boda-boda rider, were crushed to death by a trailer that was transporting cane to West Kenya Sugar Company.
The accident occurred near Shamberere Technical Training Institute after the trailer veered off the road, overturned and landed on the three, killing them on the spot.
A mob set the trailer and a firefighting engine on fire, accusing the trailer driver of reckless driving.
Police officers had a rough time restoring calm as the mob also attacked West Kenya workers who went to the scene to help retrieve the bodies.
Dinah Ayuma, who comes from Shilongo village in Malava sub-county, lost her only son Simon Shole, 40, in the accident.
"It was on a Saturday and my son bade me farewell, saying he was going to check on his business at Ingavira market, moments later I received a call informing me that he was involved in a road accident...," says Ayuma, adding that Shole was the family's breadwinner.
It was a big blow to Ayuma who had lost her firstborn sometime back and was left with Shole.
Shole is survived by three children aged between 12 and 23 but Ayuma and her husband have had a rough time keeping the children in school and feeding them.
Ayuma wants the county and national governments to expand and tarmac the killer road.
"The road is very narrow and in poor state of repair yet it is a busy route that ought to be upgraded...," she says.
The family of Josephat Omukunda, 30, from Lunyinya village, is also in agony following his death.
Omukanda was riding when a trailer rammed his motorcycle that had two pillions on the same road on September 2020.
Jackline Enrieda, Omukunda's sister in-law, said the road is a death-trap given its poor state and makes travelling hectic and a risky affair.
Mable Ndombi, 37, recalls how she lost her husband, Boston Kakai, in November 2017.
"On that fateful day, about three of Boston's friends came and requested me to change my clothes and accompany them to hospital saying my husband was in a critical condition," she says.
She arrived at the hospital to find her husband was long gone.
In February this year, a woman died after overloaded trailer spilled sugarcane on transit on her on the road.
Statistics from Malava police station indicate that 41 accidents have been recorded on Kambi Mwanza-Lukume road since 2018; 19 of those accidents involved boda boda riders.
Locals claim that at least 20 graves of victims of road accidents on the road are there as proof.
Shamoni Primary School head teacher, Simon Ondeyo, said he worries more about the safety of learners who use the road every day to and from school.
Some of the schools located along the route are Shamberere, Mahira, Shamoni, Lunyinya, Kakunga, Ingwe, and Shihome.
Malava Boda Boda Association patron John Bulimo said the road had not been fixed despite protests by residents since 2018.
Kenya Rural Roads Authority officials could not be immediately reached for a comment.
Malava Police Commander Paul Mwenda said there is a big problem concerning the road but warned motorists against reckless driving.