Clogged sewer, human faeces stinking up Muthurwa market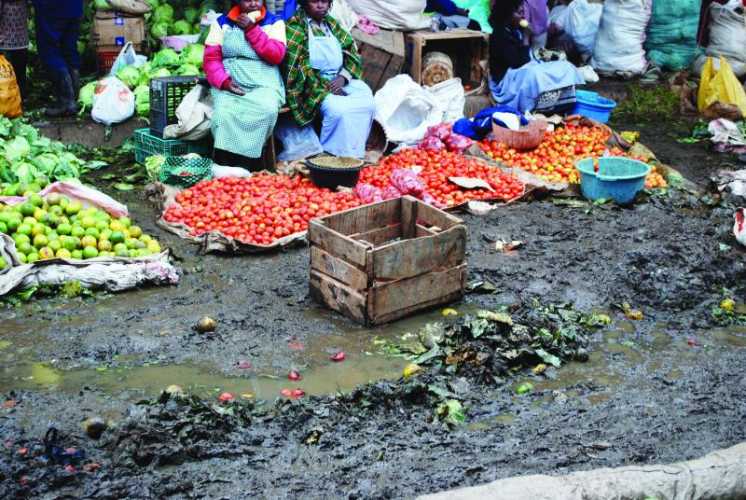 Muthurwa market, which supplies a substantial amount of food consumed in Nairobi, is stinking with filth.
Clogged drainage systems and littered waste depict the sorry state of a market where water is scarce.
Worse, the three footbridges that provide access to the facility have been turned into open defaecating and urinating spots.
A borehole that was to cure the water shortage problem remains unutilised a year on after it was sunk. Cleaners who used to do daily tidying now avoid the market like a plague.
The poor sanitation has left traders and matatu operators worried. Their pleas to Nairobi Metropolitan Services (NMS) to take action and redeem the situation continue to fall on deaf ears.
"The environment here is heavily polluted because of laxity of enforcement. People dump waste in drainage systems while others urinate anywhere," said Cleophas Ongolo, manager of Indimanje Sacco.
The traders want a facelift of the facility where, on average, close to 100,000 people transact business, according to Nelson Githaiga, chairman, Muthurwa Traders Association. The population comprise traders, buyers, travellers and matatu crews.
"You can imagine the neglected amenities expected to support the big number of people depending on this market," said Githaiga.
Even after being completed, the borehole capable of supplying enough water to the market has never been commissioned.
"It's yet to start operating since completion in April last year," said Githaiga lamenting that several reminders to NMS have been ignored.
But Anthony Mbarire, NMS officer in charge of communication, passed the buck to the city county government: "Our role is to provide the infrastructure, we don't manage the market," said Mbarire.
Traders say, sometimes, taps in the six toilets go dry since contracted vendors do not satisfy water demand.
"Our market is dirty, there is frequent water shortage and we no longer witness routine cleaning that used to be done by county government employees before NMS took over," said Veronica Wanjiku, a grocer.
Slept on job
According to traders, maintenance is the responsibility of NMS contracted cleaners who have not appeared at the market for several months.
"In this time of Corona, we don't know where to take our grievances since the man in charge of NMS, Major General Badi, is unreachable yet our market is in a deplorable state.
At least during Governor Sonko's time, we could easily reach him," complained Bernard Nderitu, C-bet Sacco manager.
Other challenges the traders identified include inaccessibility, lack of electricity and insecurity caused by muggers operating along Haile Selassie Avenue and Ladhies Road. They have also improvised shades to shield them from the sun and rain.
"Because of the poor design of the market that did not put into consideration extreme weather conditions, we have been forced to put up makeshift roofs using polythene papers," said Wanjiru.
Githaiga claimed garbage collection is no longer a priority. "Traders have found a place where they dump waste that remain uncollected for several days," he said, adding that foot bridges should be demolished since they are a source of insecurity and health risks.
Matatu operators complained they compete for the limited space with traders and pedestrians.
"Somebody should have thought it wise to have walkways for pedestrians; it is a pity they have to walk in the middle of the narrow road connecting the market," said Ongolo.