Love to hate: Atwoli is an astute labour unionist with global respect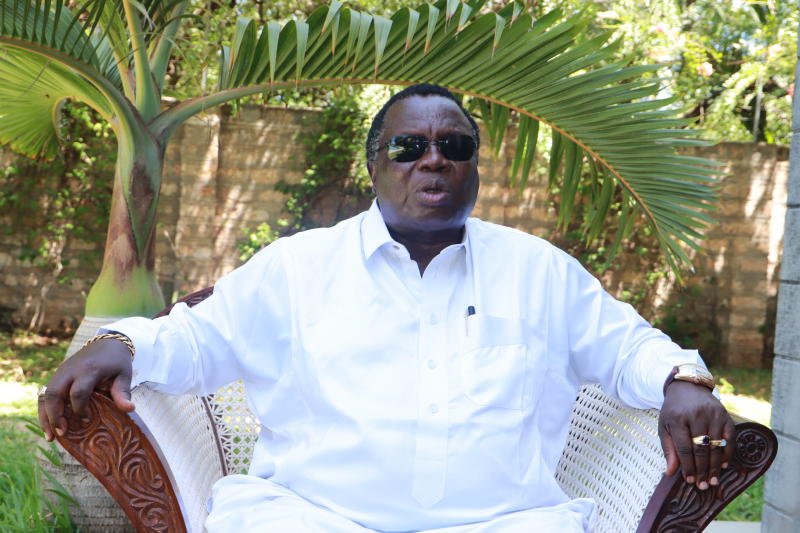 Kenyans on social media went into an uproar last week after the Nairobi County government renamed Dik Dik Road in Kileleshwa to Francis Atwoli Road.

However, activist Boni Mwangi says renaming of the road is illegal.

"I went to see the illegal sign on Dik Dik Road. I find it laughable Atwoli has employed three goons to guard it. Atwoli thrives on violence and intimidation to get his way. His CCTV is goons. We shall avoid confrontations but the sign will come down," vows Mwangi.

Professor Alfred Omenya, a notable architect and proponent of sustainable urban living and planning says the biggest issue with a road being named after Atwoli is that there was no public participation before the road was renamed.

"The issue is not whether or not we name a road Dik Dik or Atwoli. The issue is about due process. The County cannot just wake up and change the name of a road. There has to be due process. There must be public participation. That road sign is illegal," says Prof Omenya.

After vandals lit the sign on fire, Omenya, tongue in cheek, said, "As a sustainability expert I condemn the burning of Francis Atwoli road sign. That is a waste of energy. I recommend, instead, those who recycle metal should be stealing new signs every night, for purposes of reuse, until the county undertakes proper public participation."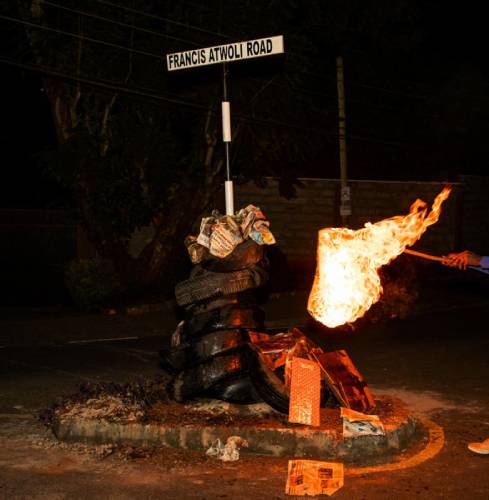 But lawyer Donald Kipkorir has a different opinion.

"Francis Atwoli is an institution. He has succeeded in bringing order to trade unionism in Kenya. He sits on many global boards of workers' federations. They say, you know a tree by its fruits. Few families in Kenya have highly educated children like Atwoli's," says Kipkorir.

In 2001, Francis Atwoli, then general secretary of Kenya Plantation and Agricultural Workers Union (KPAWU), was elected COTU secretary general having secured the backing of 26 of the organisation's 29 affiliate unions. He beat the current Chief Executive Officer at Kenya Film Classification Board Ezekiel Mutua, Boniface Munya and Peter Muthee.

In April, COTU delegates gave Atwoli a fresh mandate to lead the umbrella labour union after he was re-elected unopposed for a fifth term. Come June, Atwoli was again re-elected for a record fourth time as Member of the International Labour Organisation (ILO) Governing Body in Geneva, Switzerland. In his position, Atwoli will represent Africa at ILO on matters of labour and human rights.

Eric Oduor, secretary general of Kenya Union of Journalists, says all these achievements mean Atwoli has something to offer.

"Atwoli is funny when talking to crowds but he is a serious man. He is a very brilliant man otherwise he wouldn't have reached where he is right now. People see him singing and dancing with workers, it is because he is a man of the people. He represents workers, they are the ones who vote for him, not the busy bodies on twitter. Internationally, he is respected, locally he is respected. It's just a few people on social media who are making noise, because they are sitting in air conditioned offices, drinking tea and using free Wi-Fi. Ask the tea picker in Kericho, who got a salary increase because Atwoli fought for them. Ask teachers, who get salary increases because the trade union fought for them," he adds.

Oduor says apart from the union matters, Atwoli pushed for the labour movement to join others who were agitating for an end to the KANU regime. He says in May 2001 with backing from ILO Atwoli was part of a panel that reviewed Kenya's labour laws that extended protective labour regulation into the informal sector, changed archaic and colonial labour laws and contracts and also established Industrial Court of Appeal to overcome contradicting jurisdiction between the High Court and the Industrial Court. The laws were enacted in 2007 and 2011.

Atwoli has also been at the forefront to protect workers' pension and health care through board representation at National Social Security Fund (NSSF) and the National Hospital Insurance Fund (NHIF).
He says KPAWU, led by Atwoli, was able to get 10,000 workers of Unilever Tea Kenya plantations in Kericho to strike for two weeks over wage increase and the workers got an 8 per cent increase in wages, half the 16 per cent rise the union had demanded.