SRC boss on ghost-workers, retirement perks for presidents, and whether Kenyan MPs are the best paid in the world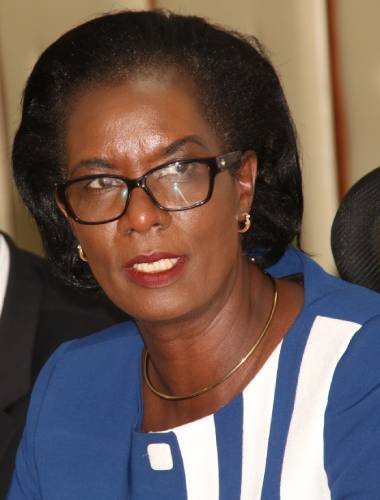 SILAS NYAMWEA speaks to Salaries and Remuneration Commission Chairperson LYN MENGICH about ghost workers, perks for retired presidents and why MCAs earn more than engineers
Is there a link between government pay and corruption?
A corrupt individual is just corrupt irrespective of how little or how much they earn. There is, therefore, absolutely no link between government pay and corruption.
What is the justification for paying a graduate engineer less than one-third of what an MCA with a Form Four certificate earns?
Jobs are evaluated and labour trends carried out to establish their relative worth. This evaluation is based on a number of compensable factors, of which education is just one.
Some people consider SRC as "toothless". Your comments?
The commission is not toothless. As a result of the commission's interventions, the public sector wage bill to revenue and GDP has reduced from Sh526 billion in 2013/2014 to Sh795 billion in 2018/2019, respectively.
But is the commission truly independent?
SRC is an independent body that delivers its advisories in line with the Constitution. Its independence has not been compromised. In addition, the commission is apolitical; its decisions are not influenced by pressure from any source, including politicians.
How come you have challenges controlling what elected leaders are paid?
Legal disputes, for one. The commission, in exercising its mandate, revised and set the remuneration and benefits for State officers in the Senate and National Assembly, and State officers in the county governments, for the period 2017/18 – 2020/21. But on December 21, 2017, the Parliamentary Service Commission successfully challenged this structure in court. The same happened for State officers in the county governments. Our appeals are pending to date yet the cycle for that package and electoral terms of the officers in question is drawing to an end.
Are there instances where you feel the commission's role has been usurped?
Oh, yes. In April 2019, the Parliamentary Service Commission decided to pay MPs a house allowance of Sh250,000 per month, backdated to October 2018. We challenged this and the High Court declared that the setting and approval of the payment of house allowance to MPs is a function that is exclusively vested in SRC under Article 230(4) and (5) of the Constitution. The Parliamentary Service Commission has since filed an appeal.
Kenyan MPs and MCAs receive mortgages and car grants. What is the practice in other African countries?
Elected representatives in other jurisdictions are provided with a transport facilitation benefit to enable them undertake their representation, oversight and legislative roles. The commission takes cognizance of the similarity of the roles of legislators at the county and national levels.
Transport facilitation is not unique to elected leaders. Cars are provided to other State and public officers who are eligible, while other public officers are facilitated through other mechanisms such as "pool cars". Other than MPs and MCAs, all public officers are eligible for mortgage and car loan benefits.
Are Kenyan MPs among the best paid in the world or that's just a rumour?
As a ratio to GDP, Kenyan MPs are not among the best paid in the world.
Many Kenyans are unhappy about former MPs earning Sh100,000 a month in pension. What do you make of that?
If the Parliamentary Pensions (Amendment) Bill, 2019 had been enacted into law, it would have put an additional burden on taxpayers. This would have set a precedent and caused a ripple effect for other categories of public officers to demand equal treatment and fairness, making the public pension liability unaffordable and fiscally unsustainable. The commission is pleased with the decision by President Uhuru Kenyatta not to assent to the Bill.
Do you think we should review the perks accorded to retired presidents?
The commission makes recommendations on the review of pensions payable to holders of public offices. SRC set a four-year review cycle of remuneration and benefits in the public sector, with the third remuneration review cycle is set to cover the financial years 2021/22 – 2024/25. The commission anticipates that reviews should cover remuneration and benefits for serving and retired public officers pursuant to the constitutional principle of equity and fairness.
How do these perks compare to other countries that the commission has studied?
Last year, SRC undertook a study on pension schemes from countries with devolved systems of government. The study included economies with GDPs of over Sh10.79 trillion, given Kenya's GDP was about Sh10.79 trillion in the review period. The analysis focused more on the parameters contained in the guidelines developed by the commission for establishing pension schemes for State officers in the county governments. The study noted that most of the countries reviewed had a pension scheme for State officers, and operate contributory pension schemes. The contribution rates range from seven per cent of basic salary to a maximum of 11.5 per cent of the monthly amount of the salary.
There are political appointees who are paid a salary they would never get in private practice. How can we enforce meritocracy in the public service?
That is not true. Remember, meritocracy is enforced in the public service through performance contracts, and other governance and human resource instruments.
Why is it so difficult to weed out ghost workers in government?
A compliance check conducted by SRC in 20 counties in December 2020 did not unearth any ghost worker. However, accounting officers need to consistently have conversations on the staffing levels, regular system audits, payroll clean ups and all other efforts that help to remove any unnecessary expenses that contribute to the rising public sector wage bill.
Why, in your view, are some Kenyans leaving well-paying private sector jobs for the civil service?
Both private and public sectors recruit and lose staff across the sectors. It is a common phenomenon for employees to move from the private sector to the public sector and vice-versa.
Civil servants are thrust into penury after retirement because their pay is too low to enable them save and invest unless they steal from government. Your take?
The civil service had been running an unfunded pension scheme, which has been increasing over the years. The Public Service Superannuation Scheme Act is, however, being implemented, making pension contributory. Eventually, the retirement payouts to retirees will increase as employees will contribute to their retirement.