Fix this footbridge before it kills someone, residents tell Kenya Railways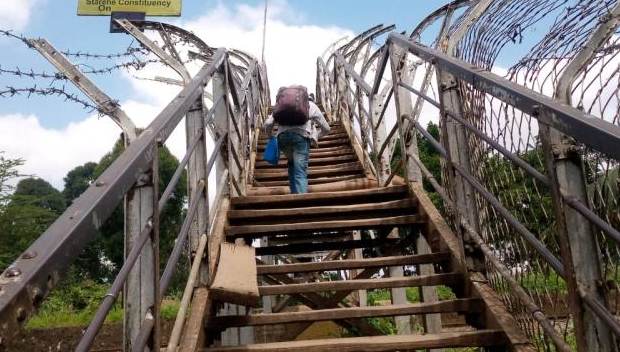 City residents who use Kenya Railways footbridge within Muthurwa estate want the utility firm to fix it.
The locals say a section of the footbridge, which serves hundreds of people on a daily basis, has wide visible gaps and the wooden planks have become weak.
On May 22, a woman slipped while crossing the bridge and suffered an injury on her ribs as she attempted to skip a wide gap caused by a missing wooden plank.
"I slipped and landed on my ribs, leaving me in pain. Two days later, I sought treatment at Kenyatta National Hospital but I was unable to raise Sh8,000 for CT scan. To date, I'm still feeling the pain and I need proper medication, " Hadija Omar, the victim, told The Nairobian.
Muthurwa Residents Association chairman Githinji Kamotho said: "The footbridge serves around 1,000 people on a daily basis, thus we are calling on the Kenya Railways to fix it to save those using it. Many people have been injured. In fact, school-going children are the worst hit."
Joseph Simiyu, headteacher of Sanford Community School in the area, said not long ago a parent escorting a child to the institution slipped off the footbridge and sustained injuries, forcing him to write to Kenya Railways.
"Last term, I wrote an email to the company to repair the bridge but no one has responded to date yet the bridge is in bad shape. About 121 students are now using the long route to avoid falling off the footbridge," said Simiyu.