Panties don't make chang'aa, afandes 'plant them during raids'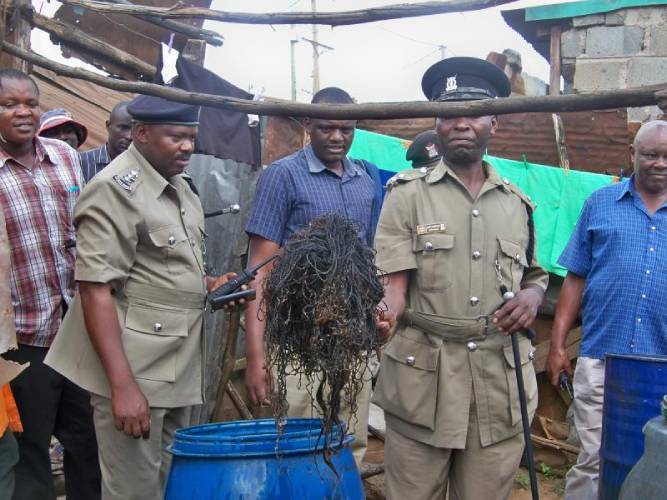 If you have witnessed busaa and chang'aa raids in Nairobi slums and other regions of late, you could not have missed to notice that authorities will fish out old underwears, lizards or bones from the hidden drums used in brewing.
These among other paraphernalia are not the recipes for local brews but is a trick used by the brewers to pull the partakers to flock to their dens daily to sip their favourite glass of chang'aa or tin of the frothy busaa.
A former brewer in Nairobi's Shauri Moyo estate, currently running a rehabilitation programmeclaims that during such raids, some of the chiefs and police officers plant the paraphernalia so as to drive the narrative that the drinks are adulterated or produced with ulterior motive.
"It is not true that all brewers use such things like panties, diapers and even used sanitary pads to brew so as to attract men. We too are human beings. Such things are just awkward beliefs. Genuine brewers would not wish their customers to die or get sick," she told The Nairobian.
"Some administrators carry out the raids only when you decline to offer them bribes for a long time. They however, alert those who comply in advance. That is why they plant such paraphernalia to tarnish the defaulters," she added.
However, a senior chief in Nairobi insists they don't interfere with the process.
"We don't plant those things, some brewers assume that when they use panties and dead lizards, customers will stick to their dens. In some places, they even throw in frogs and dead rats. It is dirty business," said the chief.
Dr Beneah Mutsotso, a sociologist at University of Nairobi, argues that it is just a belief.
He said like the belief that women sit on chapatis to tame their husbands, there is another perception that presence of their panties in chang'aa or busaa could be secret to win more customers.
"Maybe the brewers are not the ones throwing such things in the drums judging from the environment where the liquor is brewed, but there is no scientific proof to that," he explained.
Halimu Shauri, a sociologist at Pwani University, on the other hand, observes there is another perception among drinkers that if female underwear is thrown in the drums, men will become good in bed thus frequenting the joints.