Broke Ayimba struggled with women and depression, battled rejection and disappointment at work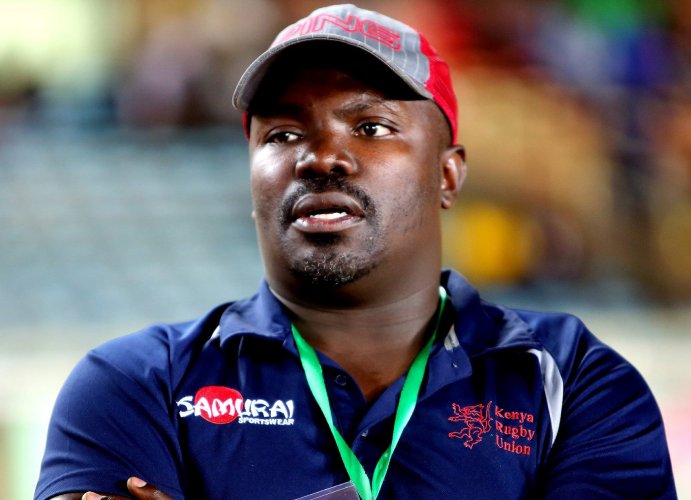 Benjamin Ayimba, the rugby giant who died last week after a long illness, devoured life with the same ferocity with which he fell upon opponents, both as a player and coach.
Revered as the first Kenyan to lead a rugby sevens team at the Singapore Sevens back in 2016, he floated on the crest of victory and the adulation of a hero starved nation.
But like your average celebrity athlete, fame exposed him to many off-field problems and a series of setbacks that took the wind out of his sails. In particular, women loved him, and he scrummed with the best of them.
They said he succumbed to "Cerebral Malaria". The irony; a man with a lion's heart and physique floored by a wee lil' insect.
There are those who say the mosquito caught him flatfooted and weak, distracted, worn out and depressed by the tackles life handed him off the rugger pitch.
Indeed, close associates say the last days of his life were marked by pain, drama and court cases - from two of the four women he lived with as husband and wife.
Life did not treat Ayimba nicely. The burdens of child support, the search for a job he couldn't get and a life he felt he desired constantly weighed him down. But he managed to sugarcoat all his pains and struggles – standing tall in public when life played him small at each turn.
A man with a big ego, he was twice rejected by the Kenya Rugby Union (KRU) – his former employer, who would only run back to him whenever they didn't have enough budget to hire a foreign coach.
For his last stint as Shujaa team coach, Ayimba used to earn Sh200,000 per month, peanuts for a man whose ex-wife demanded Sh400,000 in upkeep per month after a dramatic fallout.
Shunned by some of the members of a sport that made him a household name, Ayimba was lost, cut off from the only career he knew, separated from some of his "wives" and children. Among the women he loved was actress Nyaboke Moraa, who calls him "husband and father of my two children".
The children were not listed as his offspring on a newspaper obituary and it is not clear whether they, or their mother, will be present when the brash swashbuckling former rugger star is buried. Awuor, who sued Ayimba for child neglect in 2019, says her "husband" had five other children and one stepson from his "many women".
Before her, there was Caroline Waswa and Fabrica Awuor. At the time of his death, Ayimba is said to have been living with a new girlfriend. Ayimba's woes can be traced back to December 2019 when Awuor, his second wife, moved to the Children's Court seeking child support for their two children. The couple had been married for 10 years.
"It is hereby ordered that the defendant carter for the minors' school fees and school-related expenses pending hearing of this application. Parties to agree mutually on the school where minors will attend," read a court ruling by Resident Magistrate Maureen Wanjiru Kibe.
Awuor told the court that she and her children were kicked out of her Sunset Boulevard Estate house in Athi River after Ayimba allegedly failed to cater for their upkeep.
She wanted Ayimba to part with Sh150,000 for house rent; Sh100,000 (upkeep fee) and an additional Sh150,000 for school fees for her two boys per month. This was besides the hefty school fees he used to pay for the other five children.
"My husband Ayimba Benjamin Otieno without reason stopped providing shelter for the minors subjecting them to auctioneers in December 2018 with six months arrears amounting to Sh150,000 plus auctioneers fees of Sh30, 000 thus rendering them homeless," the court papers further read.
Awuor was demanding close to Sh400, 000 per month in upkeep. She however admitted to receiving Sh40,000 just once, despite the court ruling that the two share responsibilities.
Then came Gloria Moraa, otherwise known as Nyaboke Moraa.
"Benja was my husband of seven years. His family knows this. Some of them even lived with me in the same house," revealed Moraa.
With Awuor demanding close to half a million from Ayimba, Moraa, also moved to court on the same grounds and was actually awarded Sh30,000 per month upkeep, money she claims she never received from Ayimba.
"I was awarded Sh30,000 upkeep money for his children but I never got the money because I knew that he didn't have anything."
Moraa, however, defended her decision to drag the father of her kids to court, further arguing that she was pushed by Ayimba's arrogance.
"I never wanted to take him to court in the first place, but remember my other co-wife had taken him there and I just reached out with a reminder that he should support his other children and he told me to go to court. I took him there because of his big ego.
"Even after the court awarded me the upkeep money, I never received anything from him. I didn't want to stress him anymore because I knew he didn't have anything. "I don't want anything from his family. All I want is for my kids to bury their father," added Moraa who termed Ayimba's death as a "bad dream" in her eulogy.
Again, what killed Ayimba?
One of Ayimba's closest friends believes numerous court cases seeking cash from him when he had none wore him out.
The game he loved has been blamed too.
Another of Ayimba's friends, who spoke to The Nairobian on condition of anonymity, said even the rugby fraternity is to blame for the many battles Ayimba fought, some to his grave.
"His family and KRU are equally to blame. They let him down. If the family would have allowed Kenyans to come to his help, Benja would still be alive.
We tried reaching out to his cousin, who is based in Germany, but because he came from a big (polygamous) family, they wanted to keep his story away from the media and consultation also took time while his health deteriorated.
"KRU always used him as a bouncing castle whenever they didn't have the money to hire a foreign coach. The same union would kick him out as soon as they got the funds. Ayimba was frustrated to the grave," said the friend.
Awour, however, denies any link to Ayimba's death.
"It is unfortunate that he died of 'pressure', but I was not part of his misery. The last time I spoke to him was in 2020, in court, and he walked out on us," said Awuor, adding that she had no plans to move to court to compel Ayimba's family to include her children in burial plans.
"They have every right to bury their father, but I'm not going to court because it's draining. This thing must just be sorted out by the adults. We have our problems but let us not involve the kids," she said.
They called him "Shoes". And what shoes. What a man. What a journey.