Going out in style: hire a luxury car for your dearly departed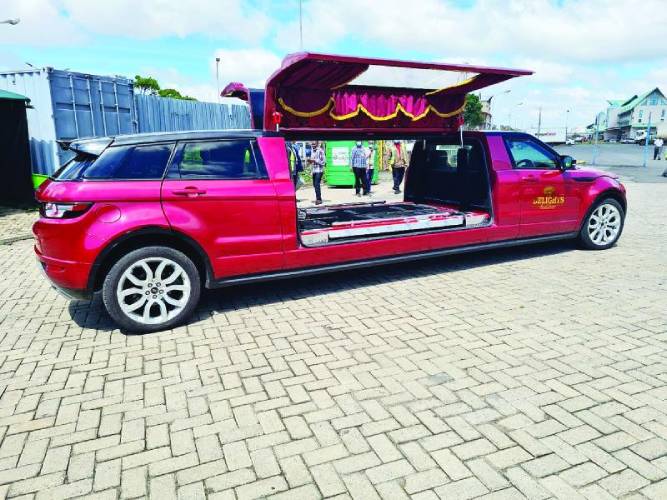 A posh Range Rover SUV hearse recently introduced by Delight Funeral Directors has been the talk of town in Nairobi thanks to its touch of maroon and a swanky interior.
The hearse is not just the ordinary car used to ferry bodies from the morgue.
However, what is interesting is that the firm has made it available to the general public and not the high and mighty only as would have been expected.
The company has disputed online chatter that the SUV hearse cost them an arm and leg, saying it is available to anyone wishing to give their loved ones a befitting send off.
"It is brand new vehicle bought from the United Kingdom. It is barely a week old and it is not true that we are targeting the rich only. We can work with any budget and that means we are open to negotiations," Harrison Muchiri, the company's Managing Director, said.
"We target all markets because our charges are not standard. Anyone can use it. A family member can come with their budget and we will litsen to them. Sometimes, we even donate but we don't have specific cost because our charges are pegged on the distance where bodies are taken."
Muchiri says the hearse can accommodate four people to accompany the body and comes with a lowering gear, trolley and red carpet, among other utilities.
"We come from a Christian background and thus our entry into the market in 2015 was to fill the gaps that existed, not to exploit them. Our aim is to help families to overcome their grief and the lowest moments of their lives. That's why we listen to those who come to us after the loss and we agree on the budget available," he explains.
The company has a variety of vehicles to choose from beyond the Range Rover.
"We have other hearses like Land Cruiser Chariot, Jaguar limousine and Prado. in short, we offer full service to grieving families at their time of need and we are available in other places such as Kitale, Eldoret, Bungoma and Busia."