From Mugithi nights to mjengo sites: Legendary Gikuyu singer does mjengo jobs to make ends meet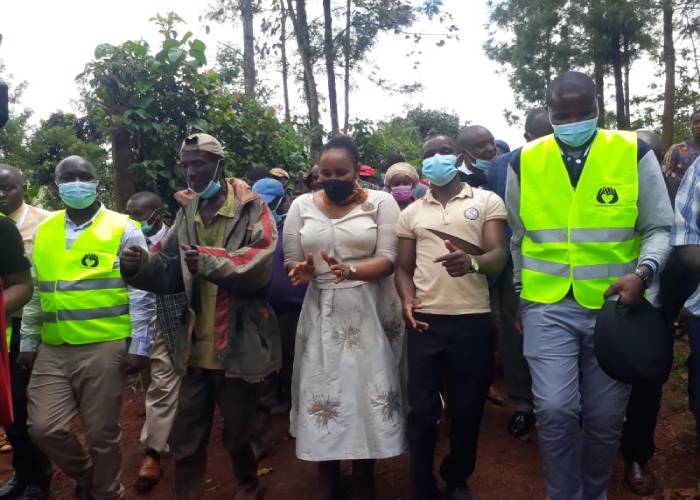 A legendary Gikuyu musician is living in abject poverty in Murang'a even as some of his songs enjoy extensive airplay on leading vernacular television and radio stations.
Moses Wanyoike, 65, was once a household name in Mugithi music and his Muthithi Komesha Band was among the most sought after in the entertainment industry in major towns until his star dimmed decades ago.
Some of his popular hits that still play on native FM stations include 'Ndacoka Muthithi (Return to Muthithi), Macindano ma Ago (Competition in witchcraft), Coka Mucii No Nguka (I'm coming back strong) and Nyumba yakwa Mathare (My House in Mathare).
In "Nyumba Yakwa Mathare," the musician sang of a bewitched city dweller living his shack in Mathare slum. Little did he know he would himself end up living in a shack in his own village.
The band leader is a pale shadow of his former self with poverty having taken a toll on him and his neighbours say he regularly recounts the days he used to earn thousands of shillings per night after entertaining revellers in popular nightclubs.
"It was all consumed by life," the father of five with several grandchildren explains his predicament.
Muthithi Komesha Band had six members with Wanyoike being the founder and soloist. Peter Mwangi alias Mundigo, a member of the band is still in the music industry.
At his Kiugu village home in Muthithi ward in Kigumo constituency, Wanyoike does menial jobs to place food on the table for his family having hung up his guitar after proceeds from the industry were eaten up by piracy.
He works in neighbours' farms and construction sites as he recounts how the radio stations play his 150 songs without loyalties being passed to him as the law demands.
He looks at his guitar with adoration and hopes one day he will be back on the stage to turn his life around.
Mud walled house
It pains him to listen to his songs being played on leading vernacular radio stations from his tiny mabati shack clobbered together after his old mud-walled house collapsed two months ago.
He said the artists are living in abject poverty despite their contribution to the national economy.
"I'm doing manual jobs in the village despite my big name in the music industry, proof that artistes lives literally die once they fade from the national limelight. It is even surprising that the media has managed to trace me in the village digging trenches," says Wanyoike.
Kiugu village is among areas in Kigumo constituency with poor roads and lacks electricity, piped water and a dispensary, with the majority of the young ones indulging in alcoholism and bhang smoking.
He recounts how he started composing songs after meeting the late Gikuyu benga musician Joseph Kamaru in Nairobi, who encouraged him to play songs that will inspire the youth.
"We used to meet regularly with the old musicians from Murang'a and lay down strategies on how to compose songs that would give guidance and hope to the community," Wanyoike recalls.
In Nairobi, he invested in real estate alongside his music career and assisted many people to get residential and business premises at a commission. But he speaks little of what happened to his fortunes though neighbours say he ate life with a big spoon in his heydays.
Johnson Kamande of Muthithi market says the musician has been neglected by lovers of music after he retreated to the village.
"I visit him regularly and help in scouting for manual labour in the village so he can place food on the family table," says Kamande.
Last week, community leaders pledged to assist the musician rebuild his life and offered to build him a decent shelter. Wanyoike's wife Margaret Njeri, 60, says the family is experiencing monumental health problems and lacks decent housing.
"We have problems fetching water from a nearby stream besides spending nights in this shack," she said.
She added in the past musicians earned little compared to modern days stars who are driving and building financial empires.
Kikuyu Council of Elders chairman Wachira Kiago says Wanyoike's case will be looked into after his concerns were raised.
"The artistes play a crucial role and they should be considered a pillar of our community even when their lives go on a downward spiral," said Kiago.
Kigumo MP Wangari Mwaniki has also pledged to construct him a house
"I will mobilise professionals in Murang'a to uplift Wanyoike's living standard. We shall ensure the village gets piped water and electricity," Ms Mwaniki says.