You can now dispense condoms, pads at special ATM machines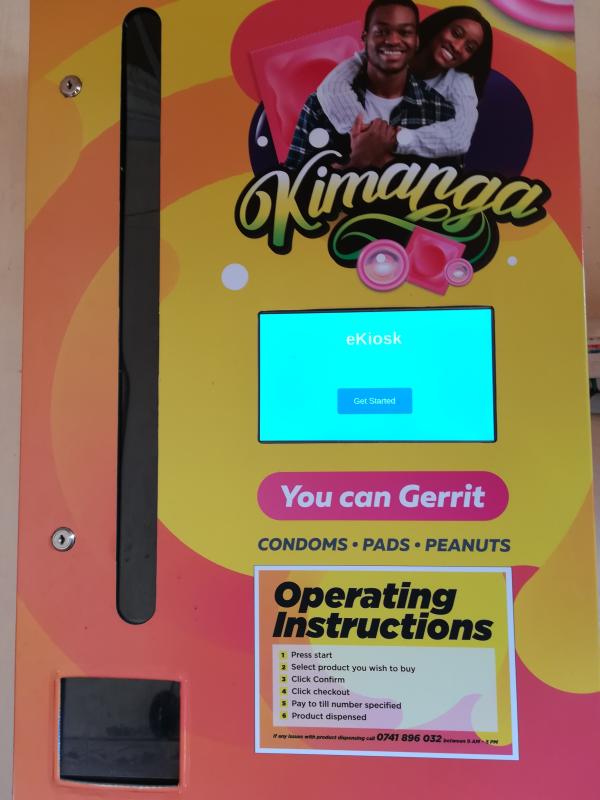 Are you among those who freak out when buying a pack of condoms from a shop or chemist, especially when you get served by the opposite gender? Then don't be perturbed because such embarrassing moments could soon be over.
An initiative by Novek offers a special digital vending machine that allows one to not only buy condoms in private but it also dispenses sanitary pads and peanuts by just selecting the specific item. Payment is easy and discreet through mobile money service provider, M-Pesa. Also, picking the items is done in private.
The machines are the first of their kind in East Africa with contactless M-Pesa payment and a touchscreen interface aimed at ensuring privacy and improved access.
They are already available in some places in Nairobi and the proprietors are planning to roll out to other towns across the country.
Zahid Mit, Novek's Managing Director, says they introduced the machines about two months ago with some already installed in public toilets as part of the UK Aid-funded Frontier Technologies Programme, with additional funding from The Children's Investment Fund Foundation (CIFF).
"At the moment they are installed in public bathrooms only, but we are looking at other sites in and around Nairobi to place additional machines. Placing the machines in a variety of locations will help us learn more about demand for condoms dispensed via vending machines," Mit told The Nairobian.
"Our first goal was to test and confirm that the machines work and that people would use them. So we decided on public bathrooms due to the high traffic and the ability to reach a wide population of people from all backgrounds."
The manager reveals that they settled on condoms, pads and peanuts because these are products men and women need but shy away from acquiring them in public.
However, the peanuts provide an alternative product for convenience and also offers users an opportunity to disguise their selection and thus avoid embarrassment when approaching the machine.
According to Mit, the touch screen is designed to increase access of condoms for low-income groups aged between 18 and 24 years though customers of all ages can use the machine. The device uses normal power consumption just like a mobile phone.
"The prices from the vending machines are the same as at the supermarket or close to them, for all products, and it takes an average of 60 depending on products per row. The vending machines are designed to with technology that anonymously records the sales data," he explains.
At the moment, clients can only get original Trust Condoms brands.
"We started with a partnership with Population Services International and Population Services Kenya. For now, we are just looking for sites that would be interested in partnering with us to test machines and demand for products," he says.