Good relationship project spoils party for boda boda 'mafisi' targeting school girls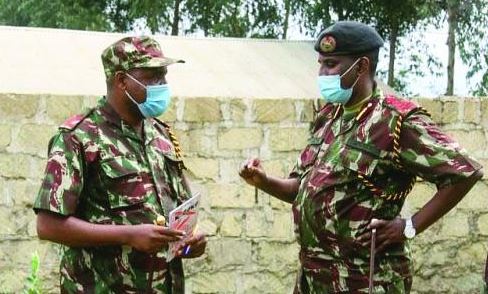 For a long time, the long trek to school was a thorn in the flesh of teenage girls at Kamithega in Tigania East, Meru County.
The nearest secondary school was 10 kilometres away. Many girls from Kamithega would walk to school through the Nyambene forest and back.
Many fell prey to men of negative virtues and boda boda operators who offered them lifts to school and took them back home.
"Our girls had a lot of problems as they had to walk 20 kilometres to school and back daily. They had to take a short-cut through the forest in the wee hours to reach school on time," said Gervasio Kaneriba.
Regina Karamuta, a senior teacher at Kamithega Primary School, said the long trek to school exposed girls to sexual abuse by wayward men.
But now, residents of Kamithega are a happy lot after the Administration Police Leadership and Sports Centre (Aplsc) launched an initiative to build a secondary school in the area.
Kamithega Day Mixed Secondary School opened its doors in January this year and the pioneer Form One Class is in session.
Though there are only two classrooms for the current Form One and next year's Form Two students, the student population is expected to increase.
"The new secondary school will help in a big way and we thank the administration police training centre. Many girls got lured and got pregnant, and dropped out of school," Karamuta.
Aplsc Commanding Officer Rem Mutabari said the Administration Police decided to establish their specialised training centre in the 64,000-hectare Nyambene forest to cultivate a good relationship with the local community.
"We decided to partner with other wishers to build a school near their homes," said Mutabari.
"We identified areas where the Administration Police could help," said Mutabari.
Girls walking to school through the forest at dawn and walking back home late were vulnerable to sexual advances and many got pregnant, he said.
"We organised a charity marathon to raise funds to kick-start the project. We got Sh600,000 and started construction of the secondary school next to Kamithega Primary School," he said.
The training centre bought 100 lockers and desks for the students who occupy one classroom built by the National Government-Constituency Development Fund.
Mutabari said the construction of the school, Kamithega health centre and a community borehole is an example of a symbiotic relationship between police and locals.
"Our health centre, which is manned by police officers, serves between 50 and 100 patients daily. We do referrals for those needing further treatment and are planning to put up a 10-bed maternity wing. Our request now is to have the six-kilometre road to the training centre tarmacked," he said.
He said the road to the training centre, hospital, schools and Nyayo Tea Zone was impassable when it rains.
"The costing has been done. It will require Sh300 million to tarmac the road. We have made a request for the tarmac because it will serve the training centre and other social amenities," he said.
Hide your knickers
Hanging your underwear on a public clothesline makes them public property