Quiet funeral for affluent businessman accused of murdering son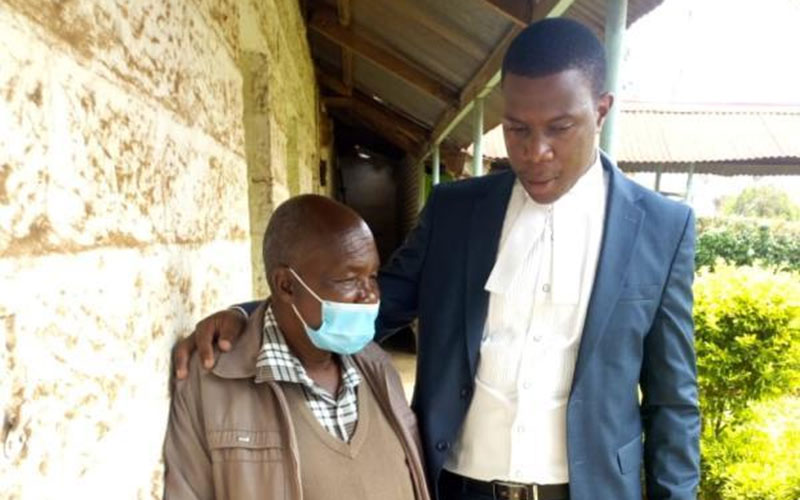 The late Stephen Wangondu Kinini was known for his wealth, love for women and shrewdness.
But his death and funeral were a quiet and low key affair, which was a far cry from the kind of life he lived - on the fast lane.
Wangondu was charged with the murder of his last born son Dan Mwangi and spent the last two months fighting for his freedom.
He was taken ill while in police custody in late February but his condition deteriorated as he remained in custody.
Wangondu was freed from jail on a Sh1 million bond and was rushed to the Nyeri County Referral Hospital, where he was referred to the Mt Kenya Level 4 Hospital, which has designated the Covid-19 Isolation Ward.
However, he was later transferred to a private high end hospital where he died while in the ICU.
His funeral this last week was low key, only close family member were allowed into the compound of his palatial home in Wendiga estate in Mweiga.
The estate is an affluent suburb with beautiful bungalows, and winding driveways.
Most mansions in the area are acres apart owing to the fact, the land owners have large properties to themselves.
For Wangondu, his home sits is on a 100 acre parcel of land. The heavily fortified compound, has a majestic mansion painted with cream and off white walls.
According to neighbours, Wangondu intimidated them by leaving dead snakes at their door steps hoping to scare them from their land.
"He bought this land over 20 years ago and when he first arrived he was the only one who had a car. He wanted more land from his neighbours so he would use tactics like leaving dead snakes at our doorsteps so we would sell him our land," a neighbour said.
The compound had two tents, one offering shade for the late Wangondu's casket while the other was set aside for family.
Heavy rains pounded the area, as the service took place and the affair took less than two hours.
Neighbours and friends watched the gates from a distance mostly curious about the ceremony.
According to one of a close family friend, who refused to be named, Wangondu had four wives, two of whom he was estranged and were the mothers to his children.
The late Wangondu was a prominent businessman, who owned vast swathes of land in Mweiga and Nyeri town. He owned a chain of petrol stations, entertainment joints and several supermarkets in Nyeri County as well as a controversial ballast mine.
Wangondu also owned a 30 acre parcel of land on the edge of the estate, where his son Mwangi, lived and was murdered in January 1.
The land was one of the reasons the two had fallen out.
Mwangi's brothers left when Wangondu, separated from his wife (their mother) years ago.
However like with most of his properties, Wangondu often used his wealth to manipulate his children, pitting them against each other.
He never formally transferred the land to Mwangi and often threatened to evict him, but after years of developing the property, Mwangi stayed put and refused to leave and so the bad blood began to fester.
Mwangi would work at the entertainment joints, which Mweiga owned and they rarely got along according to locals. They often had public disagreements over the running of the businesses.
In early December 2020, it got worse when one morning an irate Wangondu showed up at work and fired his son, who served as a manager. By January 1, 2021 Mwangi was dead.
Loved life
Mwangi loved life; his friends describe him as a generous hearted guy who spent time enjoying their company with occasional drink over roast meat like most men of his age.
And on New Year Eve he arrived home a few minutes after midnight at his house in Wendiga Estate in Mweiga, an affluent surburb with beautiful bungalows and winding driveways.
Mwangi's house, is isolated, fortified, well maintained and he had started breeding dogs, which had become a passion for him.
Everyone in the neighbourhood knew his dogs were dangerous and could only be controlled by their owner.
So when his lifeless body was found beside his car along the driveway on the morning of January 1, everyone wondered who was behind the murder. And why didn't the dogs attack them.
According to an autopsy report, Mwangi, suffered, blunt force trauma to his head and 16 stab wounds to his upper torso and face.
It is alleged that his father Wangondu was behind the murder and while his son's body was discovered his phone remained switched off throughout the night.
Until one of his employees informed him that Dan had been attacked.
However, despite receiving the information, Wangondu coldly insisted he would only pay the killers once he confirmed that Dan's body was in the mortuary.
Even before Mwangi's burial, Wangondu asked another one of his adult children to move into the property.
— Additional reporting by Clement Masombo
Hide your knickers
Hanging your underwear on a public clothesline makes them public property