After KCSE, what next for kids who love music, drama?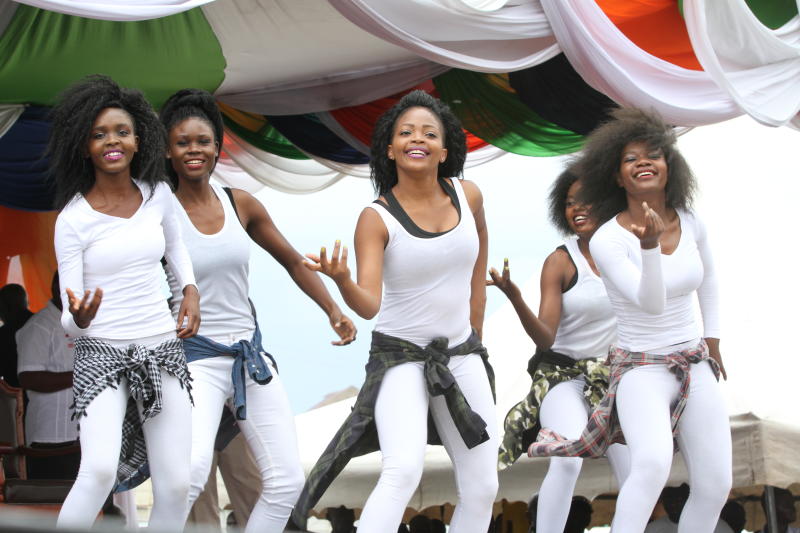 For two semesters, from the September of 2013 to the April of 2014, Daystar University had a fascinating programme called the 'Creative Academy,' that was the brainchild of banker-writer Kinyanjui Kombani, now based at Stanchart in Singapore, and the unconventional academic Dr. Wanjia Njoya.
"Most literature courses are taught by academics who only know the theory of writing," Kombani said. "We wanted a course where real life writers taught end-to-end writing, from the idea of literature to the process of publishing to marketing one's own creativity ..."
Indeed, the interest in this course was so strong that there was a woman from Kisumu taking the nightly bus from Kisumu to Nairobi, just to attend the classes at the Valley Road campus.
"That experience showed me that the interest in creative writing and performing arts in Kenya is very strong," Kombani told this writer. "There is a need for a Campus where writers, even those without degrees but who are sparkling in their craft and eloquent in elocution can teach."
And not just teach students!
"In such a space, anyone who wanted to learn how to be a creative writer, or even just write creatively, whether an architect, banker, contractor, doctor or entrepreneur would come for classes, and be taught by academics like Dr. Njoya, or writers like Nganga Mbugua."
Kombani believes this would also be a respectable way of putting money in the bank for creative artistes.
Not that super popular bloggers like Jackson 'Zulu' Biko aren't already doing it.
With 150 K followers on his Facebook page alone, Biko, the writer of two books ('Drunk' and 'Thursdays') runs monthly masterclasses for writing that attract full houses, even during this time of corona – complete with 'guest lecturers' on Zoom to teach/hash out the nitty gritty realities of creative writing. When you figure out that Facebook's most common masterclasses are by world authors like Margaret Atwood or Dan Brown, and that the app 'Grammarly' is one of the most advertised tool on that Zuckerberg behemoth of a global platform, it begins to hit one that everyone, and their grandmother, now wants to be a writer. There is demand for a University of Writing. Author Kingwa Kamenchu believes that we over-privilege the 'left thinkers' – the rational practical types of STEM (Science, Technology, Engineering, Math) – in our education system, at the expense of right brain thinkers – the creatives and Imaginative.
"We hear stories of left handed children beaten to become right handed. We force artists and artistes to become accountants, then when they become alcoholic out of frustrated creative ambition, we blame drinking demons," Kamenchu reflects.
The Oxford University trained self-styled Madam President says there is "a brain orientation educational genocide against right brain thinkers," and urges that the State, while engaging in its CBC curriculum and "indulging in its fantasies of sports academies, like the ones in Europe, should also dream of Creative Colleges for Kenyans."
Kamenchu believes African is a rich lode of creative and performing arts because Africans are born with the craft.
"We had our prophets, seers, rainmakers and dancers, before missionaries and colonialists came and put us in suit, tie, skirts, shorts and shoes; and shamed us for our artistic lifestyle, causing brainwashed Africans to shun the non-conformist types ..."
Dr Zippy Okoth, who teaches the performing arts at Kenyatta University and has written a book and produces films, echoes and stretches Kingwa's argument for the need of Creative Campus.
"A fully fledged university focusing on performing arts, theatre, film and even literature would have not just the spaces like halls but actual equipment and the physical infrastructure and thus inherent mental architecture to create academics and practitioners who can examine the entire political, social, economic constructs of our State and society, and fill in the knowledge gaps for a better debate on how we are governed, and how resources are shared in a democratic state."
Zippy laments that while we lose Sh700 billion annually to corruption, even the daily loss (Sh2 billion that President Uhuru himself mourned) could set up the first of such creative spaces.
"Instead, the ministry of Culture and Heritage, often lumped with Sports and Youth, becomes the Siberia where Ministers who have 'failed' the President, but whom he still needs, are sent."
Dr Fred Mbogo, who teaches literature at the Moi University, writes theatre plays and acts in films is very categorical about the need for a university of 'Creative Writing and Critical Thinking.'
"This country has no national philosophy, and our last attempt was the Nyayo slogan 'peace, love, unity.' It is essential we move beyond campaign sloganeering like 'tano tena' and have centers where we can learn, at university age, how to critic things and interrogate life. Colleges don't need just reading lists, but to learn HOW to read, what to read, how to think originally.
"We don't just need literary historicities and our own homegrown Hollywood, but an elite cadre of pushers of artifact, cultural consumption, critical conversation and an output of creative industry. We need a cultured citizenry that can not only speak truth to, but push up against State actors. This is how creativity works in democracy," he argues.
Professor Mikhail Iossel, who started the Summer Literary Seminars in Kenya 20 years ago, that saw writers like Binyavanga Wainaina go to workshops in St. Petersburg and move to North America eventually, is determined to found Creative Schools in Kenya in the coming years.
"I'm proposing to create a creative retreat in Lamu and a writing residency in Lamu, where local (Kenyan) and international writers can write, listen to lectures, craft talks, have their works professionally critiqued and engage in joint literary projects, that span from Lamu to London, from Nairobi to Navoloki (in Russia)."
This should be a part of the national vision to empower youths, as opposed to kazi kwa vijana and the lazy village football tournaments that politicians organise to steal the votes and future of talented Kenyan youths.
And central to this vision should be the establishment of a full-fledged university for creative writing and performing arts.
To paraphrase the immortal words of Al Pacino in the film Scent of a woman, these talented youths have "a valuable future. Believe me. Don't destroy, protect it, embrace it. It's gonna make you proud one day. I promise you."
— Tony Mochama has taught creative writing workshops in lots of places - from Venezia to Windhoek.
Communities where donkeys are revered
In the community, besides burying donkeys like humans, a dead donkey is lowered into the grave accompanied with wads of cash, a token of appreciation