Nightmare of bodies being fished from Sagana River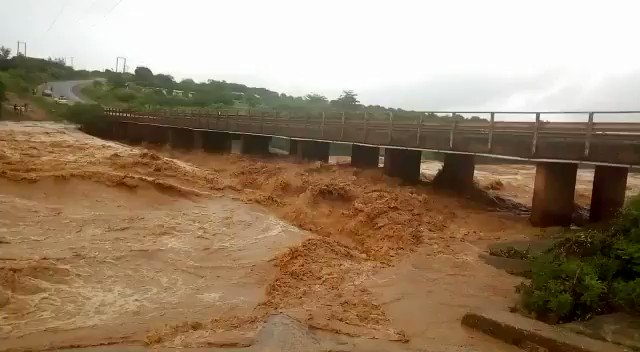 They run out onto the road, outstretched hands holding mud fish, trout and tilapia held together by thin thread; much like that which holds the hopes for people here that they will not find another dead body in the nearby river.
Welcome to Gwa Thamaki (the fish market).
After the frenetic pace of the day, the vibrant market centre that goes dead quiet in late night; with an eerie background that has traders worried, especially every time the rainy season or campaign period nears.
Human bodies, many suspect thrown over River Sagana bridge, float downstream to be fished out by fisherfolk hoping for a different catch.
Charles Kariuki, a fisherman at Sagana River, says that they are lucky not to have found any body in the river this month. For the more than 30 years he has fished in the river, Kariuki has witnessed close to a 100 bodies being retrieved from the wide and deep stretch as Kenya's longest river flows towards the Seven Forks dams and the waiting Indian ocean.
Sagana bridge, which is just under 200 metres long, is popular body disposal site, with criminals hoping the evidence of their crimes will be swept away to be devoured by crocodiles in Masinga dam.
Kariuki says the incidents of bodies being thrown in their area of work - the river - mostly happen during the rainy season when the river overflows, hiding the graveyard below; and the campaign period.
"While fishing, we sometimes confuse the bodies with a huge fish, before we realise that the baits have only caught bodies of human beings, not our preferred target," Kariuki told The Nairobian.
Despite the grim findings, they drink and use water from the river for household chores.
Locals narrate how they fish out bodies wrapped in sacks, and others tied with ropes and to huge stones in an attempt to keep them at the bottom of the river.
In a day, during the rainy or a general election, Kariuki said between three to five bodies are usually retrieved from the river.
When word spreads around, people avoid fish from the river, and those who operate food kiosks or sell fish have to look for alternatives to feed their families.
"Whenever we locate a body, we inform the police but they do not respond immediately, sometimes bodies can (stay here) for three days without being picked and this affects our businesses," Kariuki laments
Henry Murigi, a sand harvester, says their lives are a nightmare.
"The Kenya National Highways Authority should install CCTV cameras to keep away the assassins who kill people from elsewhere and come to dump the bodies in this river," Murigi says.
"These cases have become rampant, by now we have eight unclaimed bodies lying at the morgue, we continue appealing to locals whose dear ones are missing to visit the morgue to look for their bodies" Murang'a County Executive Member for Health Joseph Mbai says.
But for the one month that sand harvesters and fishermen at River Sagana haven't found a dead body, their counterparts at River Mathioya further up above Murang'a town have retrieved five bodies.
Murang'a administrators believe this could be due to the dualing of Kenol-Sagana-Marua road, which has made the Sagana bridge busy at night.
One of bodies of those discovered at the new dumping spot has since been confirmed to belong to Elijah Oboung, one of the missing quartet from Kitengela.
Muranga County Commander Donatha Kiplagat said they are concerned over the rising cases of bodies being dumped in Muranga rivers. "We will eventually seal this criminal loophole," he said.