'Men's Conference' chairman turns life over to Christ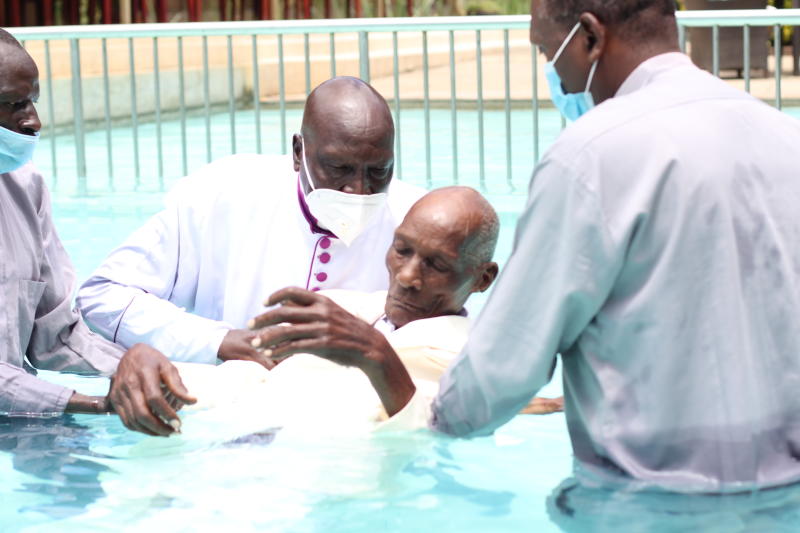 At 87, Mzee Jackson Kibor has strode his world like a colossus for many years to earn the title of de facto chairman of 'Men's Conference'. And for his no nonsense approach to life, he is admired and hated in equal measure.
The polygamist divorced his second and third wives in succession, sued his sons for trespass, failed in an attempt to shoot at his son and destroyed clamps after his luxury SUV was chained by county askaris.
The old politician has, at different times, spent time in police cells for tribal incitement, fitted his car with spikes after the police confiscated his firearm and demanded DNA tests on his five sons.
Now, he has pulled another surprise and promised to abandon the ways of the world and pursue heavenly riches. He has seen the light and has now given his life to Christ.
Like many athletes from Eldoret, who have gone on to make a name and conquer the world, Mzee Kibor was not born into spectacular opulence.
"Honestly, I am not a schooled chap as you might expect though I was bright at school, I used to take poles and firewood for fees payment but while in Standard Five they insisted on us paying money, which I did not have and dropped out for not raising Sh3 at Lelmokwo primary school in Nandi county. I never saw my father and my mother died when I was six years old," Kibor told The Nairobian.
Built empire
However, despite the humble beginnings, he still built an enviable empire in agri-business with more than 4,000 acres of land spread in Uasin Gishu and Trans Nzoia counties.
"I began collecting wattle tree backs and sold because I did not have an employment ticket. After several years of working there, I secretly learnt how to drive company Lorries until I was approved," says Kibor with his signature smile.
Today, Mzee Kibor has four wives and 27 children, some who are based overseas working or in school.
"In my life, I have achieved all a man can yearn to have. I had two remaining tasks yet to be accomplished — to be baptised and wait for the end of my time in this world," Mzee Kibor said after he was baptised at Boma Inn Hotel's swimming pool in Eldoret.
On Monday, the octogenarian saw the light and accepted Christ at a ceremony presided over by Retired African Inland Church (AIC) Bishop Rev Silas Yego and witnessed by his youngest wife Yunita, some of his children and close friends.
Bishop Yego expressed his happiness by the decision taken by Kibor to seek Jesus, saying he was now a changed man.
"The Bible says one who is saved should be baptised. Today, we have followed what the Bible requires of us," said Bishop Yego.
Bishop Daniel Chelagat of Pioneer Community Church, who was also in attendance, said Kibor has been a generous member of the community, often donating his land for church construction and also other charity work for the needy. "Today, we celebrate the baptism of a senior elder in our community. We also celebrate the salvation and the forgiveness that he has sought from God and his family," said Bishop Chelagat.
Mzee Kibor, who has recovered from Covid-19, after he was infected late last year, said he has always been a member of AIC Pioneer in Eldoret town.
"My baptism should not be seen as seeing light, I have been a member of AIC since my childhood only that I had not been baptised. I started attending church at AIC Lelmokwo in Nandi county before relocating to Uasin Gishu were I have been a pioneer member of AIC Itigo," he stated.
"I was the one who asked the church to baptise me since I have been a church member for a long time without the required rite of passage. I realised I was getting old and no one knows the hour or the day when the Lord will call you home. The Bible in John 14: 6 says 'I am the way, the truth and life'. So I was fulfilling this to see the Lord one day," he adds.
"The Bible exhorts hard work and enjoying the earth splendour, which has always been clarion call in the Men Conferences address because we should at all time discourage laziness as the Lord commanded us."
Mzee Kibor said he missed this year's 'Men's conference' because of Covid-19 but promised to expect more teaching including salvation in the next meeting.
And while the church welcomed one more soul, a lost sheep, his critics are waiting in the wings. His life was marked by bitter matrimonial feuds, which saw him divorce Josephine Jepkoech and Naomi Jeptoo, his second and third wives respectively, over claims of desertion, physical abuse, cruelty and denial of conjugal rights.
The divorces will stand
"I have been baptised and the decision of the courts terming the two unions irretrievably damaged stands. They are no longer my wives because the divorce stands. Even the DNA tests will soon be conducted because I want to know if the sons Naomi begot are truly mine because they have been so cruel to me," he said.
Mzee Kibor maintains he never married Naomi and he does not regret any of his decisions.
"I worked hard to amass all the property I have and no one should fight me over them but wait for my decisions. Even the sons who have been fighting me are still living and tilling on my land," he discloses.
However, Kibor says they can only inherit his property if the DNA results dispels any fears he held overt their paternity. But should the test confirm his fears, then Kibor says he will show force them to vacate his estate together with their mother.
Kibor says some of the disagreements with his children are because they mismanaged what he gave them and want to take over other assets.
The towering figure, now increasingly frail with old age, is an amiable soul; his husky voice and humour made him a good debater and draws crowds even in his heydays.
Born in Kipkabus, Uasin Gishu County in 1934 his mother moved with him to Nandi County before her death. He returned to Kipkabus and immersed himself in casual jobs at a tanning facility in the area while living with an uncle.
Beat Covid-19
He married his fourth wife Yunita in 2002 and lived with her in Chepkoilel together with their five children, but has since moved to reside in Elgon View estate in Eldoret, after getting Covid-19.
"Sometimes back I summoned all my kin to my Kabenes home and after the meeting I shared my estate amongst my family members. I have not written a will but the family knows where their property is," he said.
Early this year, Eldoret High Court ruled in favour of Kibor's sons, stopping the old man from evicting them from his 1,250 acre piece of land in Uasin Gishu, until the appeal pending in court is heard and determined.