No attachment: Technical University comrades boycott virtual learning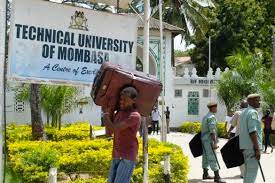 Students at the Technical University of Mombasa have boycotted online classes after comrades in their third year of study were barred from proceeding to the next academic year.
According to them, the third-year students who were meant to go for industrial attachment but did not find slots in companies and organisations should be allowed to conclude their studies.
"We had unfruitful initiation of dialogue between us (students) and the administration that directly affects online learning. This is why we are boycotting classes," Haron Kipkemoi, the student union's secretary general said.
The students are dissatisfied by the administration's move of barring students, who were adversely affected by the Covid-19 pandemic as companies and organisations laid off workers.
"If permanent staff were being laid off, what about we students who were going to seek attachment opportunities?" Ann Kamau, a third year Pure Mathematics student posed.
See Also: https://www.standardmedia.co.ke/education/article/2001312446/how-technical-university-of-mombasa-is-transforming-its-tvet-programmes
An Education student Peter Mwita also wondered what would happen to them as they cannot proceed for teaching practice since learning institutions are closed.
"Schools were closed and I couldn't go for my teaching practice. The administration should be fair enough to let us access the portals and continue learning like the rest," Mwita said.
Besides industrial attachment, the students are also lamenting over the fee payment for essentials that the institution does not offer them as they learn remotely.
"Its unreasonable to pay for services not rendered to students at the moment. Fee payment on medical levy and on activity fee despite classes being online is unfair," Kipkemboi told Campus Vibe.
The students also claim they have not been able to access data bundles to facilitate their online classes.
"It hard for us to even access the classes since we don't have data bundles. Online learning is posing lots of challenges to us," Hillary Kazungu, an Arts student said.
However, the administration holds that industrial attachment is ongoing in counties not affected by the lockdown.
"Students carrying out attachment in the locked down counties will be assessed via virtual conference meetings organised by chairpersons of departments," said Dr Paul Gichuhi, Registrar Academics, said, adding that in case virtual conference is not applicable, a confidential report from the organisations they were to get placement will suffice.
Here are ten types of Kenyan cops
The bad cops hire out guns, handcuffs and uniforms to thugs. They never take a case they cannot benefit from. Then there are the loyal ones