Fishy business: Prostitutes using their sexual mojo to steal our fish clients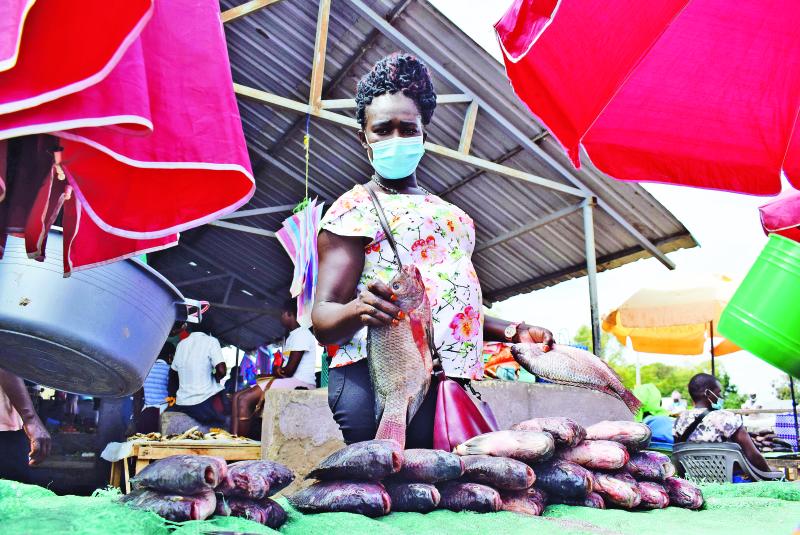 Fish traders from Homa Bay are an infuriated lot. They claim sex workers from the area have invaded their business, rendering them jobless and broke.
Speaking to The Nairobian, some of the sex workers revealed that the Covid-19 restrictions, which has resulted to bars and entertainment joints close by 9pm, have disrupted their businesses. They have now been forced to get a Plan B.
In Homa Bay town, most of them have ventured into fish business, a move that has angered veteran traders. When The Nairobian team visited Pier Market along the shores of Lake Victoria in Homa Bay, we met Lydia, who is a commercial sex worker.
Lydia was dressed in a red apron. Inside the apron, she was wearing a white T-shirt and brown skirt. She was seated in her rack where she was selling fish. Young men who are smartly dressed flock her rack to buy fish as they exchange pleasantries. But, the veteran female traders sneer at her. You can tell that there is tension between the sex workers and the fish traders.
"Three weeks ago, together with my friends, we decided to venture into fish business. Our business was adversely affected by coronavirus. But what disturbs me is that my fellow traders don't like me and consider me as competition," she said.
Lydia claims that her fellow female traders don't like the fact that most of her clients are men, who buy her fish in huge quantities.
"Veteran traders are unhappy with us because many men buy fish from us. I don't understand where the hate is brewing from," Lydia said.
She said she fetches Sh600 in profit per day, which is lower from her previous trade, where she would make close to Sh1,400 per day.
"Whenever I left my house every evening, I was sure of getting a minimum of Sh2000 in one night," Lydia said.
Apart from Lydia, there are a number of commercial sex workers from Homa Bay facing the same predicament.
Jane, another sex worker, told The Nairobian that their business is no longer lucrative due to Covid-19 restrictions.
" Our business was booming. We would get clients who were willing to pay double our prices. Unfortunately, with Corona, our trade has been affected," Jane said.
She said they have since resorted to fish trade so that they don't sleep hungry.
"Compared to our previous trade , this fish business is not very lucrative. People are broke and are not buying the fish in large quantities. But we have to survive since we have families to feed," said Jane.
But fish traders who spoke to The Nairobian claim the girls have killed their business.
Linet Atieno, a fish trader argued commercial sex workers have flooded the business, which has reduced the number of people who buy fish from them. Atieno accused the commercial sex workers of using their sexual relations with men to steal their clients.
"There are some men who used to buy fish from us. But they are now buying from them (sex workers) because of the relationship they used to have," Atieno said.
She argued that the rivalry is causing cold war at the market."It is not a laughing matter because our business is being hijacked. Men with high purchasing power now buy fish from them," Atieno said.
Another trader, Everline Achieng' said entry of the ladies into fish business had also caused difficulties in sourcing for fish from the fishermen.
There is fear that the ladies are also using their 'sexual skills' to buy fish for sale from fishermen. The competition comes at a time when fish has become a rare commodity in Lake Victoria due to what is suspected to be decline in fish population in the lake. Achieng' argued that they are experiencing unprecedented competition in buying and selling fish.
" The fishermen no longer give us priority, but instead, prefer to give theses call girls the best stock. We are suffering in silence," Achieng' said.
She urged Kenyans to adhere to Covid-19 protocols to end spread of the virus.
"I appeal to Kenyans to adhere to the protocols so that our country can be Covid-19 free. This is the only way through which we can be salvaged from this problem," she added.
Apart from commercial sex workers, some bar maids have also ventured in the business after being sacked.
Hide your knickers
Hanging your underwear on a public clothesline makes them public property