ODM leader Raila Odinga tells congregation he is a Christian and member of the Anglican Church of Kenya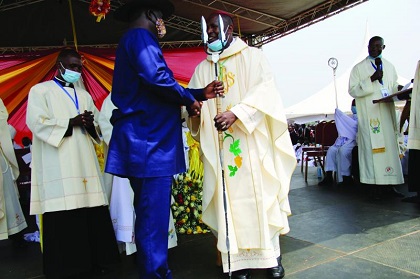 ODM Leader, Raila Odinga has broken his silence over allegations he is a witchdoctor.
Odinga, who was addressing a crowd at Homa Bay High School, during the ordination of Bishop Michael Odiwa of the Catholic Church in charge of Homa Bay Diocese, said he is tired of being tagged 'mganga' by his political enemies.
"There are people who call me mganga and mtu wa vitendawili (man of riddles) and all sorts of things. I want to inform you mganga ni mtu ambaye hutibu watu. Otherwise, I don't mind being called mganga, politically speaking," Raila said.
He told the congregation he is a Christian and a believer of the Anglican Church of Kenya (ACK).
"Let it be known here that I am a protestant of the ACK. I have a very close relationship with the Roman Catholic Church and that is why I am here today," Raila said.
He revealed the Roman Catholic Church rescued him when he was in political oppression and was fighting for democratic space in Kenya many years ago.
That time, the government of President Daniel Arap Moi was unhappy with him.
He narrated how retired Arch-Bishop Zacchaeus Okoth rescued him in disguise before he went to Uganda to seek asylum.
"There came a time when I was under serious political oppression in this country. Arch-Bishop Okoth came to my aid when I was hiding and made arrangements for me to get out of Kenya in disguise," he said.
Raila was sneaked through police roadblocks disguised as a bishop from Machakos county.
This enabled him to travel in a vehicle from Nairobi to Kisumu at a time when he was being hunted by the government.
From Kisumu, he boarded a vessel in Lake Victoria and travelled to an Ugandan island.
He finally moved from the island to Kampala and later travel to Norway where he stayed until hostility against him calmed down.
"I am so grateful to the Roman Catholic Church because the role of the church is very significant. The church has stood out with vulnerable people at critical moments in this country," said Raila.
He argued that the church should not be left behind in any changes, which the country wishes to make.