Former MP was buried at his second wife's Kapseret home. First wife also demanding DNA tests of step-children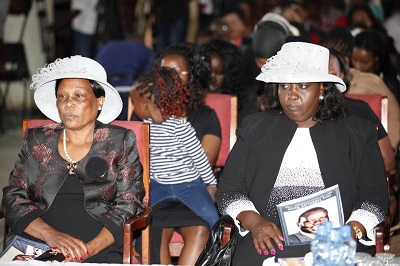 A fierce succession battle over the multibillion estate of former nominated MP and Kanu era power broker, Mark Too, is pitting his two widows at the Eldoret High Court.
The late MP's wives - Mary Jepkemboi and Sophia Jelimo fell out after a botched attempt to file a joint case for letters of administration in 2018.
Mark Too, who died in 2016, was buried at Sophia's home at Kapseret, Uasin Gishu County. But four other children (one deceased) who admitted they were born out of wedlock have also filed their applications in the succession case.
One of them, Ali Mark Too, states that his mother, Asiya Said Ali, wed Mark Too under Islamic laws before the Kadhi's court in Mombasa in the 1990s but later separated.
Mark Too had interests in agribusiness, large scale dairy, maize and wheat farming, property and real estate. At stake are also multimillion shilling homes in Muthaiga, Lavington in Nairobi, Milimani, Nakuru and Elgon View, Uasin Gishu County.
There is also Sh500 million in various bank accounts and the widows told the court "the deceased left behind a vast estate which is scattered and is at risk of being wasted if the court does not appoint an administrator urgently."
But both have since filed separate petitions, with Mary Jepkemboi submitting fresh suit papers dated December 4, 2020. The petition states that she was Too's "only legal wife" having solemnized their wedding in 1977.
She further argues Sophia's children who have joined the succession case as interested parties were born out of wedlock and should be excluded in the distribution of the estate which includes 19 farms scattered around the country, 10 trailers, 10 tractors, 11 vehicles and shares in six companies.
Mary in her petition also states that Sophia was Mark Too's 'mistress' and only had a daughter with the MP out of wedlock and that her other two children are not Too's biological kids and should not be included in the sharing of his estate.
She asked the court to order for a DNA test to ascertain their paternity, but Justice Stephen Githinji struck out the DNA request arguing it was not necessary for the case to continue.
Mary claimed that some assets including the 200 acre Kosirai farm, three houses in Elgon View and parcels of land in Nairobi registered under Mark Too belonged to her mother Lillian Jason and should not be distributed as they do not form part of his estate.
"The deceased was holding trust for me being a sole beneficiary to her estate," stated Mary in statements supported by her first son, one of four kids.
She also accuses Sophia, a former teacher, of appointing her son in Too's companies.
In her response, Sophia's petition states that she met Mark Too at a friend's house while still a student at Kenya High School in 1981. Too officially met her parents in 1988 and they wed under Nandi customary law.
Too's brothers, Clement and Nelson Too, also stated in the statements that their "family recognized Sophia as Mark Too's second wife and had blessed their union." Mary's two children also acknowledged in their statements that Sophia was their mother's co-wife.
Sophia adds that Mark Too began living separately with Mary after she squandered money meant for paying employees in 1995.
Her petition includes documents indicating she was a co-director in most of Mark Too's companies besides collecting monthly from some of his properties for the last 29 years while working as a teacher.
Sophia states that they sired three children and lived together until Mark Too's death from heart attack in December 2016. He was 60.
Sophia argues that she has been taking care of her co-wife and paying her children's school fees besides caring for her ailing parents until their demise in 2000 and 2007 respectively.
Sophia stated that Mark Too began delegating his business affairs to her after resigning as a Nominated MP to pave way for Uhuru Kenyatta's entry into Parliament, besides resigning as chair of Lonrho East Africa.
"This was a very dark period in my late husband's life. His political friends deserted him, his busy, fast paced life that he had become accustomed to, suddenly ground to a halt. Due to the amount of pressure he was under, my husband delegated a lot of the responsibilities to me which included running and overseeing all his business affairs and I had to close my business that I was running," reads part of her petition which also states that she appointed one of her sons to Too's companies using her powers as a director. The son was the most educated of the siblings and with business experience.
The hearing of the case has been slated for June 29 and 30.
Mark Too's estate at a Glance
The vast estate being contested by Mark Too's two widows includes 19 farms in Nakuru, Uasin Gishu, Nandi and Trans Nzoia Counties among them Kabilo, Sirikwa, Chemoset, Kosirai, Kitale, Kiminda, Savani, Ngeria, Kapcheserut, Ngechek, and Kurgung. Also being contested is at least Sh500 million in three bank accounts, houses in Nairobi, Lavington, Milimani and Eldoret-Elgon View as well as 10 trailers, 10 tractors and 11 vehicles. Also in contest are shares in six companies: Green Haven Ltd, Kingwal Holdings Ltd, Bins (Nairobi) services, Fanikiwa Ltd, Charter House Investments and Jamala Holdings.