Despite the many recorded deaths and warning signs on site, partners will still arrive for Valentine's Day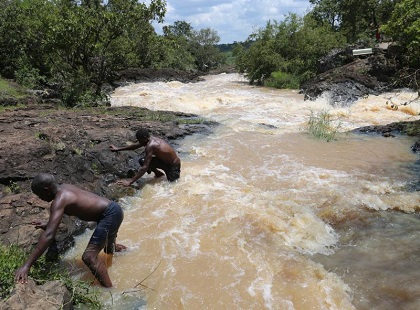 Chep'kiit Falls, loosely translated to mean 'view from a far' is where lovers go to inadvertently die about 25 kilometres from Eldoret town.
Chep'kiit, according to locals, should be viewed from afar, off the Eldoret-Kapsabet Road. But visitors are lured by its majestic 80-metre falls with rainbow rays before the waters plunge into the rock caves as they flow down Kipkaren river. Many visitors throw caution to the wind and move closer.
The falls are a deathtrap. In three decades, over 300 people have perished there, majority being lovebirds on honeymoon, marking anniversaries or courting couples out for romantic picnics.
The place has four view points and along the edges, visitors enjoy a misty spray with unmatched panoramic view, the canopy of an indigenous forest.
For superlative view of the falls, one has to surmount fear to scale the slippery rocks, exposing themselves to the lurking danger of slipping, as the place is haphazardly fenced.
"The waterfall is extremely dangerous, especially during the rainy season, people scale the slippery rocks to take selfies only to slip off and drown," says Paul Rotich, who comes from the nearby Birbiriet village and whose father fell in the river and his body was never recovered.
He recalls a 31-year-old woman slipping to her death in August last year while posing for photos after an excursion with her fiancé. About seven people fall to their death annually.
Rotich said the falls have turned out to be a magnet for lovers but "unfortunately, most have been scaling the dangerous rocks oblivious of the danger they pose. This is despite the falls having clear signnage warning of deaths on site. Even on Sunday, as the lovers meet to celebrate Valentine's Day, the falls will have many flocking in to take that unique selfie.
Rotich now reckons that there might be some superior forces, which pull one to the falls and leads them to the slippery rocks where they fall off and drown.
"Our elders have even conducted cleansing ceremonies in a bid to appease ancestors to no avail," Rotich says.
Visitors are charged Sh500 per adult and Sh200 for kids but Rotich says despite the revenue collected, site managers have not taken the safety of visitors seriously.
"There are no barriers to safeguard lives and the bridge is broken even after it was mended by locals. The holding grills are shaky," he warns.
Joshua Rugut, another local, says visitors come from far and the Nandi county government needs to invest in safety.
"We have had enough tragedies and there is need for a permanent solution to prevent any other loss of life," adds Rugut.
Jonathan Too, a village elder, warns many lives are lost during the rainy season and a solution is needed for people to enjoy the serenity of the site in a secure way.
Nandi Tourism Executive Wilson Taiy said they regret the tragedies, adding Sh18 million has been allocated to improve safety at Chap'kiit Falls to prevent more tragedies.
"We are fast tracking the erection of guardrails on designated points at the water falls as well as recruit and have tour guides and divers on site. Warning sites will also be erected across the site," he said.
Taiy warned that the site had been closed for safety and other improvements but visitors still devise ways of sneaking in.
Hide your knickers
Hanging your underwear on a public clothesline makes them public property