Why Homa bay County professional mourners are all crying in the funeral toilet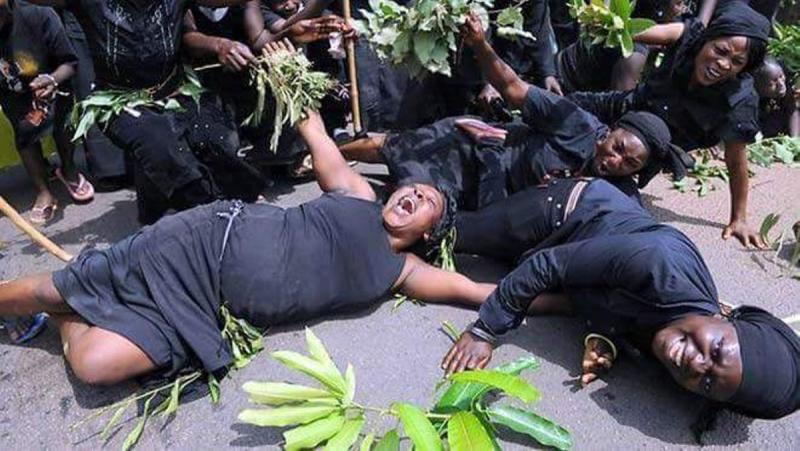 Professional mourners may lose their market in Homa Bay county following harsh government regulations introduced to govern burial ceremonies.

This group of 'professionals' also known as mourners for hire have been earning a living for crying louder than the bereaved. In Homa Bay, it is difficult to pick out these professional mourners from ordinary people. They are your ordinary cousins, brothers, sisters, aunties and uncles until duty calls and they literally swing into action.

Ordinarily, you will find them along mortuary corridors or through their agents where they seek clients by chatting up those taking bodies of their loved ones into the morgue for preservation. They will then engage the family to inquire if they are in need of their services. The mourners are paid a minimum of Sh2,000 less feeding costs. A vehicle for their transport is catered for by the bereaved family.

Upon sealing their deal, the mourners take details of the deceased person such as name, level of education and place of employment to avoid saying the wrong things when wailing. Their main role is to ensure that those in attendance form the impression that the deceased was dearly loved by many people. They will wail their voices hoarse for people who are neither their relatives nor friends. So adept they are that many bereaved families consider them a budget item when planning for funerals.

But their fortunes were dimmed in Homa Bay county when Governor Cyprian Awiti and County Commissioner Moses Lilan introduced rules that are a nail in their business. The leaders, who oversee the County Covid-19 Emergency Committee meeting, resolved to terminate any gatherings to mourn the dead, especially at night.In a joint press statement signed by Awiti and Lilan, the service has been dimmed a catalyst to the spread of Covid-19.

"It has been discovered that these mourners don't put on masks or observe social distance during night vigil. Most people, including professional mourners, attend such gatherings when they are already drunk.
"This behaviour predisposes them to risks of contracting Covid-19. A family that does not wish to take their deceased person to a mortuary must bury the body 24 hours after death.

"There will be no night vigil for a body ahead of burial ceremony. This means a body will have to be interred the same day it arrives home," the statement read.

Still only a maximum of 200 people will be allowed to attend any funeral ceremony. The directive has elicited mixed reactions among residents of the county.

Mark Odhiambo, a resident, said the regulations will kill professional mourners' business.
"The regulations have made burial ceremonies too tight to allow services of professional mourners," Odhiambo said.
"This situation has put them in a situation where they may be forced to engage in other activities to earn a living. Such activities may be evil," said Odhiambo.

But other residents welcomed the regulations. Fred Omollo, from Mbita, said prevention of Covid-19 is more important than creating an enabling environment for professional mourners to operate.
"I acknowledge the fact that professional mourners earn a living from this work. However, they need to know that we are fighting a pandemic," Omollo said.

Richard Mbewa said the move will prevent wastage of family resources on burials.
Hide your knickers
Hanging your underwear on a public clothesline makes them public property