Birds with stinking droppings killing business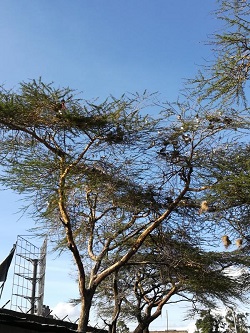 Some traders near City Stadium in Nairobi have been forced to move their stalls, while others have closed, blaming their ordeal on strange birds. According to the traders, the tiny white birds arrived in their hundreds around October last year and perched on nearby acacia trees to breed. But their stay is now killing their businesses due to the stench of their droppings.
The traders mostly sell second-hand clothes, vegetables, utensils and fried fish. They are now contemplating cutting down the trees after failing to get rid of the birds.
"Initially, we thought they would be here briefly, but they started nesting and breeding. It is their white and smelly poop that have made our customers flee," Jane Aketch told The Nairobian.
"It is the first time we are seeing them. Before, only marabous storks perched here," she added.
Fred Yego who used to run a money transfer shop and eatery before said he was forced to close the business because of the foul smell. Customers complained and they reported the matter to the City County but no action was taken.
Millions in furniture business
SUSAN GATHONI used to cry on her way to work because she hated her job, but when she landed on dead wood, her life began afresh with rustic furniture