Premium
Build or buy? Constructing a home is still cheaper than buying
MONEY
By Harold Ayodo | Aug 9th 2023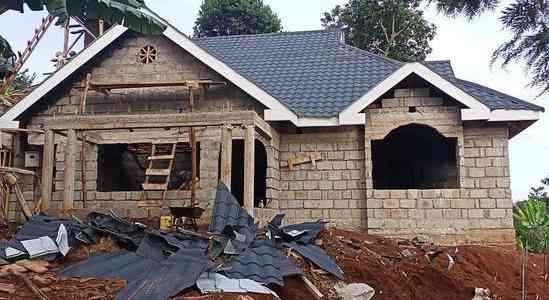 Some of us are not in a position to buy in cash the apartments that are on sale in Nairobi over the ever-increasing high prices in the wake of increased taxes. Purchasing off-plan apartments would have been a better option but the series of frauds reported where prospective purchasers pay down payment and installments but the private developer fails to construct is a nightmare. The reality for some of us is to buy a plot on the outskirts of the city and construct slowly using our monthly salaries as mortgages also do not make a lot of sense. Is it advisable to construct cheaply per pay cheque?
Victoria, Nairobi
It is possible to construct a house brick by brick using your monthly salary or income from other sources.
Ready-made houses may be stress-free as you simply buy and move in; however, they are generally expensive and deny the owner control over the conditions surrounding the property.
The cost of building from scratch varies on several factors ranging from the topography of the land, size of the house, specifications of the materials and finishing.
How banks and customers are navigating high-interest rates

Win for Kenyans as Housing Levy is declared unconstitutional

How low and middle-income families can afford housing

Homa Bay residents to occupy affordable houses in March
Homeowners who build their own houses are able to fit in their own budgets – including constructing in phases as agreed with your professional fundi.
It is important to consider adopting a simple house design towards saving on costs – intricate house plans are costly. A good fundi will also advise you to go for roof lines that are simple and short as complex and steep roofs mean increased costs.
It is important to use modern housing technologies like prefabricated panels which reduce the amounts of construction materials, labour and time taken before completion. Interlocking bricks is another cost-effective option as it requires less cement to hold them together and less labour compared to bricks.
More money can also be saved on construction materials. There are several cases where fundis work in cahoots with hardware staff or supplies to con you. Knowing how Nairobi is, falsified receipts are not hard to get. There are also several cases where the fundi you send to buy materials opts for substandard ones to pocket the difference. Close supervision is important – especially when your agreement with the fundis is to pay them per day.
Finally, consider re-using or hiring some tools (spades, wheelbarrows, hammers and wood used for support) instead of buying.
- Harold Ayodo is an Advocate of the High Court of Kenya