City 'love doctor' promises women fireworks in the bedroom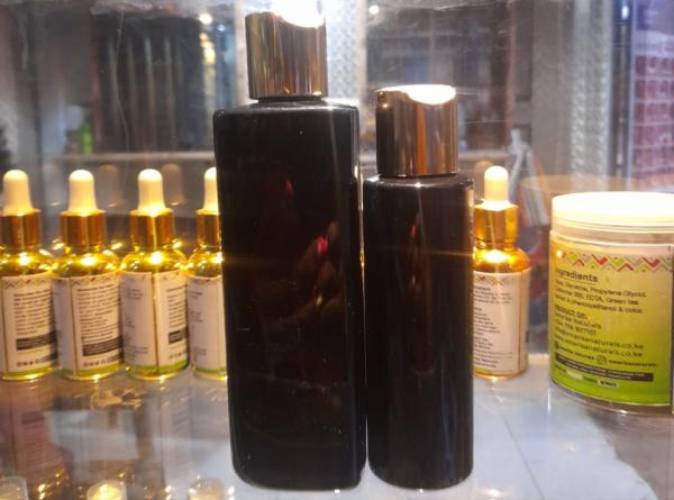 It is on very rare occasions that one comes across products meant to fire up women being promoted. Even witchdoctors rarely advertise for female solutions in bed. In most cases, waganga posters dotting walls around the city revolve around Nguvu za Kiume, wasi-wasi kazini and kuonewa, among others.
But a city businesswoman has introduced a syrup, which she says boosts the performance of women in the bedroom. Esther Kamau, who also trades beauty products, says she ventured into making the aphrodisiac after realising that many of women in the city were using crude means to enhance their libido, including spending over Sh50,000 on surgeries so as to feel good.
"I make the product from the Goron-tula tree which is rare in Kenya except for some parts of Meru. The seeds are boiled in low heat, then mixed with some spices to come up with the syrup," she told City Biz.
The dealer says some of the benefits of the product include getting rid of strange smells, stimulation for women, cleansing the body system and other ailments that affect bedroom matters.
"I settled on the product three months ago after realising that city women go to shocking extent to have a good time with their partners," she explained
Pointing out, "Some women even spend up to Sh100,000 for surgeries to tighten their vaginas, which often backfire. Some of my customers have been confused about how they were using some costly oils and injections in vain."
The products that come in 250 and 120 millilitres retail at between Sh4,200 to Sh6,000 within the city. So far, she says more than 20 women have tried the product and are happy. The product is readily available at her shop in Imenti House but she also does deliveries.
"It is taken half an hour before sex. One teaspoonful prepares women who face challenges in bed such as lack of lubrication. Those who have used it know. The feedback is amazing. I also first tested them personally," she said.
The trader says she was also inspired by clients who were buying some of her beauty products and sharing some of their challenges, including the cost of regaining sexual prowess.
"Unlike men, women share their problems. Men suffer in silence. Sometimes back, I introduced hair growth products and most of the clients were men who used to pop into my shop to buy them secretly," she said.
Adding that, "It is different for women, and that is why our problems are easily solved. For instance, when we visit the gynecologist, we open up."
Sexual desires naturally fluctuate
Gynecologist Robert Otieno says women's sexual desires naturally fluctuate over the years. He added that sometimes it due to relationship matters, pregnancy, old age or illness but in some instances there are psychological issues that can lead to low sexual desire.
"They include mental health problems such as anxiety or depression, financial stress or work stress," he said
Others include low self esteem, negative sexual experience, conflicts and lack of connection.
On use of herbal products and syrups he said "some have been tested and found to be potent. Though they were commonly used in the past, some people still use them.
"But proper medications are available in hospitals and others need simple solutions like visiting experts like us. It also depends on where one is comes from," he said.