Jane Muigai: Harvard lawyer who trains welders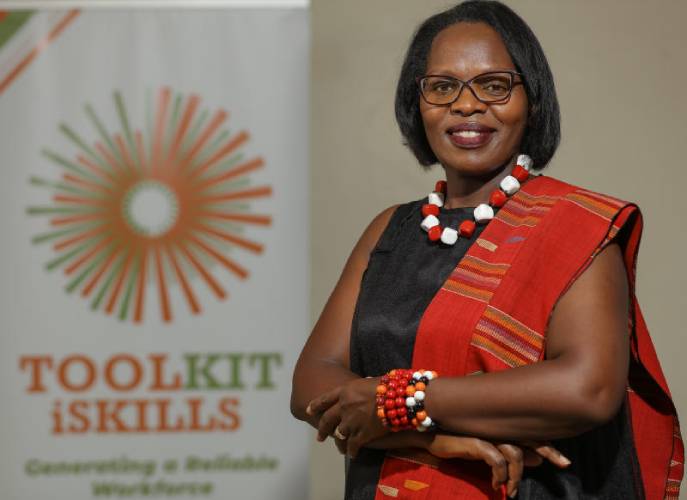 JANE MUIGAI founded The Toolkit iSkills Ltd in 2014 to equip jobless youth with globally competitive skills in areas such as renewable energy, organic farming, mining and gas exploration. She spoke to DAVID ODONGO.
You hold a Master of Laws (LLM) in Human Rights Law from Harvard Law School and Bachelor of Laws (LL.B) from the University of Nairobi. How come you are now teaching women how to be electricians and welders, isn't that field so far moved from law?
I have practiced law for many years globally in the fields of international human rights, humanitarian and refugee law with the United Nations High Commissioner for Refugees (UNHCR) in various countries such as Kosovo, Sudan, Ghana, Kenya and Switzerland. But Law is an enabler. In any career path you choose, law is a tool to help you do things better. Currently, we have 1000 students in 25 different institutes taking technical courses with funding from Safaricom Foundation.
Why did organic farming, renewable energy, construction, infrastructure, mining and gas sectors become your specific areas of specialisation?
We have an adequate labour force in Kenya. What we don't have is a skilled labour force. Let me give you an example. When Tullow started drilling for oil in Kenya, they had to import welders from other countries because Kenya had no welders. The welders you see by the road side are using the same technology that has been in existence for the past 60 years. So, at Toolkit iSkills, we teach them skills that can be used in Kenya, and in any other part of the world. Right now people are talking about green energy but we don't have enough skilled renewable energy technicians.
Are the youth today self-entitled and lazy as many people in the older generation believe?
They are disengaged, they have observed poverty and no way out of it. They have lost trust and confidence in public institutions. They have suffered social injustices. Right now, do you expect the youth to do the same type of back breaking farming that their fathers, grandparents and great grandparents have been doing since pre-independence? We must retire the hoe. So, we will equip them with skills on organic farming. The Kenyan youth no longer competes with a fellow youth from the next village. Their competition are their age mates in Asia, Europe and the USA. They are competing globally, and to make them viable for opportunities world over, we have to equip them with skills that are useful globally. If the youth are not able to fend for themselves, they will resort to violence. Without usable skills for their youth, countries in Africa will always be at war.
In your years working for the UNHCR, what valuable lessons have you learned about human nature?
I have been shocked by human beings' capacity to hate, based on tribe, race or religion. Something they even teach to children who grow up with potent hate for their perceived enemies. I have also been pleasantly shocked by human resilience. There are people who lost everything, but rose from the ashes and are back on their feet. I learned that hope dies last. Something else is that primitive accumulation of wealth and power never ends well. I have seen ministers, who were once very powerful and wealthy, sit in my office, cry and ask for fare or money for a meal. Because when war came, they lost everything. It doesn't matter how rich you are, unless we address social inequalities, no one is safe.
Apart from training the youth, what else would you add to the current curriculum?
If you train as a pilot, you get a certificate. Same with training as a doctor or a teacher. But what about the youth in informal sectors like hairdressers, a welder, a chef who has worked for years, and mastered their art, but no certificate for it? Other countries call it Recognition and Certification of the skills one possesses, or Recognition of Prior Learning (RPL). In Africa, only South Africa has a well-developed RPL process in law and practice. In Kenya, the youth entering the job market are estimated at over 800,000 annually.
Yet only 50,000 to 80,000 jobs exist in the formal sector. So, the majority of youth land in the informal sector. Take construction, for example, every jobless young man has been ''kwa mjengo''. A National Construction Authority study several years ago estimated at least 200,000 informal sector artisans work at construction sites each day and they remain handymen and women for years. They learn new skills, practice them but no one assesses those skills or certifies them. Giving them the prerequisite certification will stop importation of skilled labour for mega projects. Their age mates coming into the continent from other countries have a better card – their skills are respected, assessed and certified.
Some of the areas you impact skills on are perceived as male dominated. What is the biggest challenge you've faced when putting females through the same training?
There has been a perception that young women in tech, engineering and technical jobs cannot work as well as men. We structured our training to skill young women and empower them with necessary grit through life skills and employability skills to thrive in male-dominated work. The media and the entire society needs to showcase successful girls and women consistently. Right now, even employers acknowledge that young women are ably working as welders, electricians, scaffolders, digital / gig online workers just like, or better than their male counterparts.