Hustling: Sharpening knives feeds, educates my children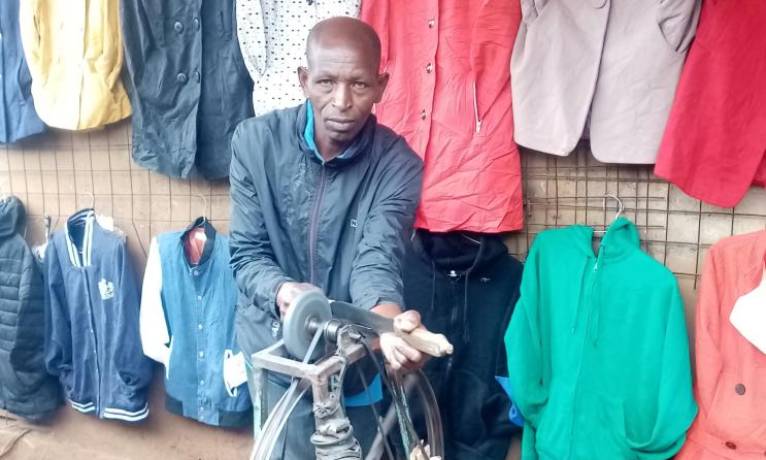 It's market day and James Ndwiga is camping at the Kiambu stage. He wakes up at 5am to open his business.
He is a mobile knife sharpener. He covers long distances using his bicycle to carry his tool of trade to meet his many customers but on this day, he is tending to mama mbogas and butcheries at the busy stage.
"I move around from 6am to 6pm targeting households, butcheries and markets." After being in this trade for 20 years, the 40-year-old confirmed to CityBiz that he pockets Sh1,000 in profit every single day.
Previously, Ndwiga, who hails from Kianjokoma in Embu County, was a waiter. But serving customers from morning until evening in a Nairobi restaurant was not only tiring but also demanding.
"I came to Kiambu in 1998 after I quit my job as a waiter. I would get home tired with little earnings, after a whole day of tolerating rude customers. One day, I woke up and said to myself enough is enough. That is when I decided to get my own business," he said. "Many are days I went home feeling hopeless."
When business became unbearable, Ndwiga ditched the hotel job for sharpening knives. He bought a movable sharpening machine worth Sh10,000 from Nairobi, and started sharpening them later that evening, making a kill.
"Those days, I would make good money because people had not embraced technology and the business was booming. People would line up waiting for their turn. I had specific days when I would visit different markets and the place would be chaotic," he said.
"Today, I charge Sh20 to sharpen a knife, and about Sh50 for a panga depending on size of the tool. I make between Sh800 and Sh1,000 on a good day and Sh500 on a bad day."
Ndwiga became popular for chanting "nolewa kisu" while looking for customers around Kiambu town and its environs.
After two decades of sharpening knives, Ndwiga has positioned himself as the leading knife sharpener in the area and hopes to raise money to buy the latest sharpening machine, which is modified with a motorcycle to meet the demands of his clients who live in other areas.
He has expanded his business and now owns two knife sharpening kits.
"The latest machine costs Sh150,000 and I hope to save so that I can to purchase one. This job has helped me a lot because I am able to feed and educate my children," the father of four told The Nairobian.
Besides, the business comes with a myriad of challenges.
"The biggest challenge that I face is some customers refusing to pay for the services and asking you to come back after few hours only to tell you that you didn't sharpen the knife well," he told CityBiz.