Wanna be a chicken, eggs millionaire? It's not as easy as you think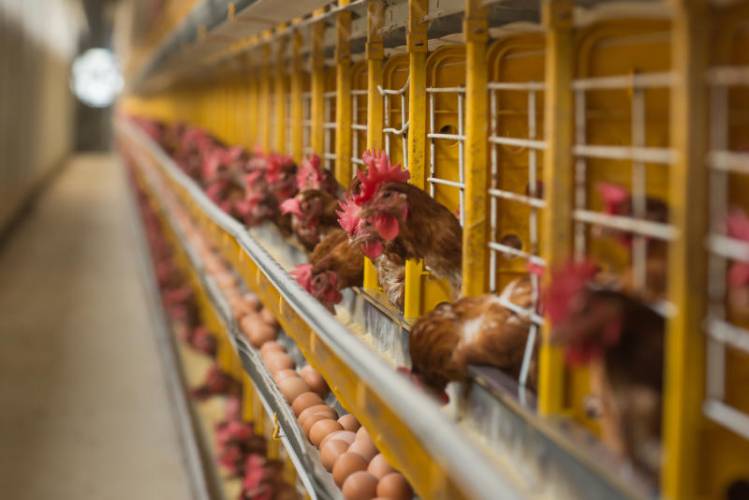 When Deputy President William Ruto declared that he makes a cool Sh1.5 million daily from 200,000 chickens that produce 150,000 eggs a day, money hungry Kenyans went drooling. But apparently, squeezing millions in profit out of chickens is not as easy as milking a big "air supply" government tender.
Beda Ogola, an Applied Statistics graduate and successful poultry farmer, who ventured into this trade after campus, says chicken farming is not as profitable as most Kenyans imagine.
"Generally, the breakthrough in poultry farming is a tricky. One thus has to swim slowly. I have managed to stay afloat because of diversifying to minimise risk, having a well-organised marketing plan and using the internet to access clients across Kenya, Uganda and Tanzania," he states.
Quality feeds
Ogola, 32, has four farms serving three different regions. His Joska farm produces the Kuroiler breed, while an outfit in Njiru produces a mixture of the Sasso breed, commercial layers and ornamental birds.
"We have capacity to manage over 3,000 birds of different ages. Currently, my farm produces about 16 trays a day for Kuroiler and seven trays for the Sasso breed. I have other farms in Rongo, Migori County and Sondu, Kisumu County for Rainbow roaster breed and exotic ducks," he says.
Ogola makes growers feed and a bit of chick mash because he says accessing quality feeds is a challenge, especially for farmers engaged in large-scale production.
"It's not easy to make money because of high production costs. Feed costs keep on skyrocketing, especially for the best quality brands. Farmers would make money from poultry if feed prices are reduced and substandard feeds and vaccines are dealt with by the authorities," he says.
Ogola is one of the farmers who keep Kenya's estimated poultry population of 57 million birds, 47 million or 75 per cent of which are indigenous chicken, according to 2020 Kenya Livestock sub-sector NDC report. Farmers also keep chicken broilers, layers, breeding stock and other poultry species like ducks, geese, turkeys, pigeons, ostriches, guinea fowls and quails. While indigenous chicken are mainly found in rural areas, broilers and layers are kept in urban areas. The commercial poultry sector produces over one million chicks per week, 14 per cent being layers and the rest being broilers.
In all, the poultry sector was worth an estimated Sh43 billion in 2019, with the Food and Agriculture Organisation (FAO) estimating that Kenya's chicken population will rise to 178 million by 2050. But not all those who venture into the poultry business will become millionaires because as Claudet Shipiti, a farm manager, avers, raising chicken is hard work.
"The first thing a chicken farmer does in the morning is to collect dead birds and isolate the sick ones. One must also check ventilation often to avoid suffocation or build-up of ammonia gases and revisit the poultry houses day and night to check on the birds'welfare and timely feeding. Without good management, you can't make it in poultry farming," Shipiti says.
Noel Malanda, a large scale chicken farmer who rears both kienyeji and broiler chicken in Ikonyero, Kakamega County, underscores the need for thorough research before venturing into poultry farming.
"Chicken farming is not for the faint-hearted because many variables keep fluctuating. At times, you can keep chicken for six months, eating into your profits, because there is no market. Many farmers are forced to deal with middlemen who end up benefiting the most.
"You cannot only rely on what is in the books. You also need to benchmark with other farmers for hands-on experience. Adhering to vaccination schedules and ensuring quality feed for chicks is critical," says Malanda.
The poultry farmer adds that the influx of cheaper eggs from Uganda where production costs are lower compared to Kenya is a big challenge for farmers.
"If you attempt to match their prices, you will make heavy losses. Here feeds consume 75 per cent of total production costs leaving the farmer with very little to take home," says Malanda.
Njambi Kimani, who hails from Kiambu, gets tickled when he hears Nairobians dreaming about the millions that can be made from poultry without doing proper research on what the business entails.
"I tried chicken farming but failed spectacularly. I had started with 200 birds but after some time they started dying one after another. It was actually a worry because the supplied birds were of mixed age.
"The mortality couldn't stop immediately due to stress, transportation and also brooder to big housing. The challenge I encountered in this business was managing the birds with poor labour and the high cost of feeds," says Kimani.
Dr Linet Akinyi, a veterinarian, advises those intending to venture into poultry farming to ensure that they keep the correct population of birds based on housing, maintain proper spacing and hygiene, provide the right feeds and deworm on schedule. Also, the higher the capital, the higher the returns, she says.
Profit margin
"When you invest good money in poultry farming, you will reap big because large scale farmers enjoy economies of scale and their production costs are lower.
"The profit margin is also higher when you pump in more money because you are targeting a bigger and more reliable market," Akinyi says, adding that what ails many small scale farmers is poor record keeping.
"You must keep track of things like the last time you gave an injection. Most of the small scale farmers don't bother, unlike large scale farmers who prioritize records because they have commercialized production.
"This is why is it is rare to find opportunistic infections in large scale farms. Everything is done in order," she says.